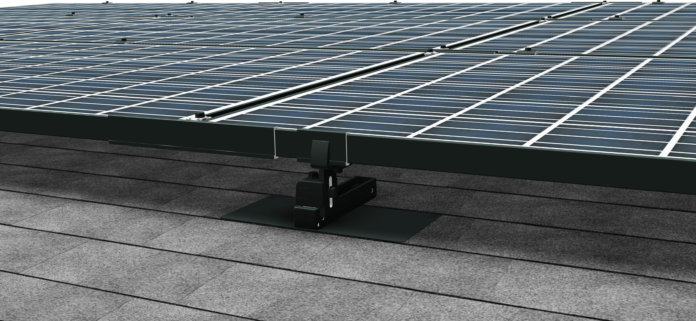 SnapNrack, a California-based manufacturer of solar mounting solutions, has launched its new RL System, a residential roof-mount solution designed to help reduce solar installation times and lower installations costs for customers.
SnapNrack says the RL System requires only four components for complete assembly with A Mounts, B Mounts, C Links, and Flash Tracks. Flash Tracks secure A Mounts and B Mounts to the roof using patented Umbrella Seal technology. Mounts align the front of the array with a sleek black finish and drop-in design for module insertion, the company continues. B Mounts secure the top side of modules and provide drop-in mounting for next row of modules. C Links attach modules within a row and provide both a structural and electrical connection. According to the company, the rail-less RL System also doesn't require a skirt to look aesthetically pleasing.
New Smart Clips provide intuitive wire management at any point along the module and easily tucks wires away within the module envelope to avoid any unintended removal over time, the company adds. Wire Savers also provide the ability to secure loose wires post-module install perfect for last-minute wire management.
RL is now available for purchase, including all Wire Management accessories, through authorized SnapNrack distributors.
On Feb. 7, SnapNrack will host a live online webinar course, Benefits in Speed and Logistics Using the RL System. The course is also registered for one NACEP CE credit. The company says its one-hour course will discuss the features and benefits of the new system, as well as how logistics are improved by removing rails from the system. Participants can register for the webinar by visiting SnapNrack's Events Calendar.