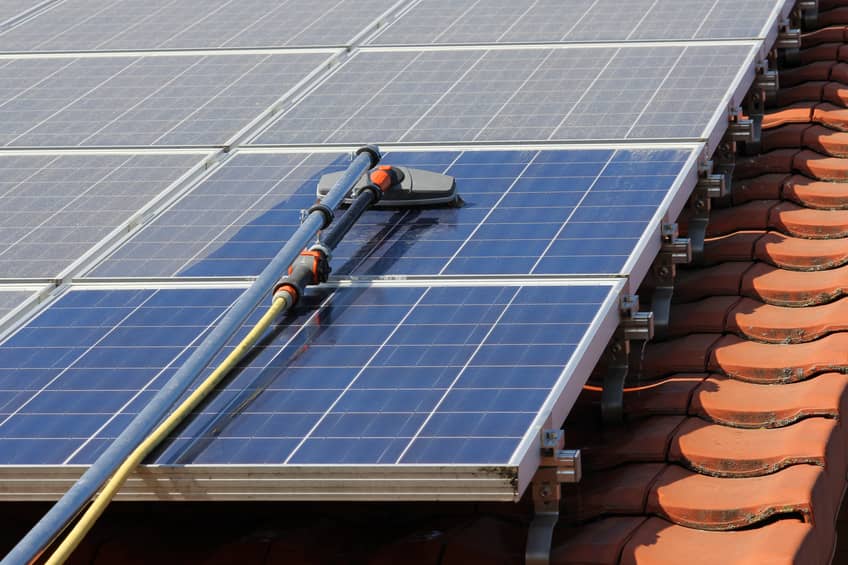 On Friday, the Public Utilities Commission of Nevada (PUCN) unanimously approved a measure to grandfather in pre-existing solar customers under the state's previous, more beneficial net energy metering (NEM) rules. The decision is a welcome win for the solar industry, which has been fighting Nevada's notorious NEM revisions ever since the PUCN ruled to cut buyback rates and increase fees at the end of last year.
First announced earlier last week, the grandfathering measure was an agreement reached between PUCN staff, utility NV Energy, SolarCity and the Bureau of Consumer Protection. Although solar companies and groups – and later, NV Energy – had been calling for a grandfather clause, up until last week, the PUCN denied such requests.
According to the Las Vegas Sun, the new compromise also came during the same week that a Nevada district court judge ruled on an appeal that Vote Solar and Earthjustice launched against the PUCN. The nonprofits didn't win every aspect of their legal challenge, but the judge did rule that the PUCN used "unlawful procedure" when applying the revised NEM rules to pre-existing solar customers.
Following the court's decision, the PUCN issued a statement saying it was "pleased" the court affirmed the commission's NEM order on "all substantive issues," adding the court found that the PUCN "acted lawfully and that the decision to protect non-NEM customers from unreasonable cost shifts was based on substantial evidence."
However, the PUCN added that the court didn't affirm the commission's decision to apply the NEM changes to pre-existing customers, "for whom the court found that the commission did not provide sufficient notice."
Despite the similar timing, the court ruling was separate from the PUCN's agreement with NV Energy, SolarCity and the Bureau of Consumer Protection, as the commission noted in its statement that it was "incidentally" already poised to vote on the stipulation.
Under the now-approved stipulation, customers who either installed solar or applied for interconnection before Dec. 31, 2015, will be grandfathered in under the previous NEM rules for a period of 20 years. In other words, effective this December, those solar customers can once again profit from the NEM program they initially signed up for.
One battle, not the whole war
The measure is expected to benefit about 32,000 pre-existing solar customers; however, it does not affect future solar adopters, who will still receive rates under the newer NEM program.
In a statement, Jon Wellinghoff, former consumer advocate for the state of Nevada and current SolarCity chief policy officer, said, "On behalf of Nevada's 32,000 rooftop solar customers, we thank the Public Utilities Commission for unanimously approving our agreement to grandfather existing solar customers."
According to an Associated Press report, NV Energy President Paul Caudill said, "The Public Utilities Commission of Nevada's decision today is fair for this set of existing net-metering customers and, at the same time, reinforces the clear path forward they established in February 2016 for those considering rooftop solar in the future."
With the grandfathering issue behind them, though, solar advocates remain determined to revive rooftop solar in Nevada, whose market was hard hit by last year's NEM changes. Some solar installers ceased their Nevada operations, and many projects were either cancelled or halted.
Erin McCann, campaign manager of advocacy group Bring Back Solar, said in a statement, "This is a tremendous victory, not only for the solar customers whose investments will be protected, but also for the tens of thousands of Nevada solar supporters who have advocated tirelessly for solar since last year's rate hike."
She continued, "Now, it is vital to restore all Nevadans' ability to go solar affordably in the future. We look forward to working with legislators, the Public Utilities Commission, and other stakeholders to restore all Nevadans' freedom to choose affordable solar energy."
In a statement, Sean Gallagher, the vice president of state affairs for the Solar Energy Industries Association, commented, "This is an important step to establish regulatory certainty in Nevada for customers who have had quite a roller-coaster ride this year."
"We now must put policies in place that support new solar customers in Nevada so that solar jobs can once again increase and the robust economic activity associated with solar development can resume," he added.
In a post, Jessica Scott, interior west regional director for Vote Solar, said, "While this decision rights a serious wrong for current customers, we urge the legislature to adopt sound energy policies in the upcoming session that will bring solar jobs and solar savings back to Nevada."
Andy Maggi, executive director of the Nevada Conservation League Education Fund, concluded, "We still have work to do."
PUCN Chairman Paul A. Thomsen recently defended his stance on the NEM issue in an exclusive op-ed in Solar Industry's September 2016 issue. To read his views, click here.