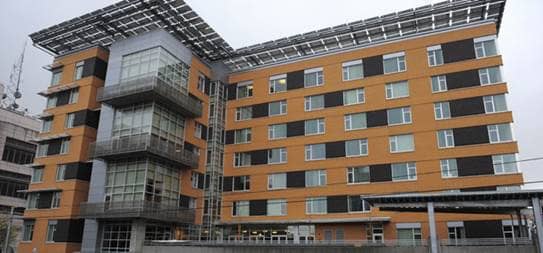 Mercy Housing Inc., a Colorado-based nonprofit affordable-housing developer, is launching a partnership with Los Angeles-based solar firm Promise Energy Inc. to increase solar energy nationwide. The program involves installing 3 MW or more of new solar capacity across Mercy Housing's entire portfolio, which totals about 18,000 units.
Because affordable-housing communities usually operate on thin margins and have limited roof space, they often struggle to implement solar energy programs. Through this collaboration, Mercy Housing and Promise Energy say they intend to show that affordable housing can, and should, be solarized.
Through a solar power purchase agreement model, Promise Energy will provide the installation and management of solar energy on a property at little or no upfront cost to Mercy Housing, and Mercy will then buy the electricity the solar panels generate.
Mercy Housing notes that a technical assistance grant from the U.S. Department of Housing and Urban Development (HUD) helped the nonprofit search for a solar partner.
"We are delighted that the HUD technical assistance was used to build capacity for Mercy Housing's innovative approach," remarks Crystal Bergemann, senior energy analyst in HUD's office of economic resilience. "This partnership is groundbreaking; we are pleased to see a long-term commitment to the solarization of an entire national affordable-housing portfolio, showing that solar works for low-income communities."
"This approach allows us to achieve real economies of scale, and stay ahead of changes in rebates, regulations and technology," says Caitlin Rood, Mercy Housing's national environmental sustainability director. "What we've found in Promise Energy is a dynamic and dedicated partner who is able to both operate at a national scale and dive into the details of each project to come up with the best solution."
Photo: This Mercy Housing property, 7th and H, in Sacramento, Calif., uses a photovoltaic system, passive solar orientation and thermal mass utilization, and high efficiency heating and cooling