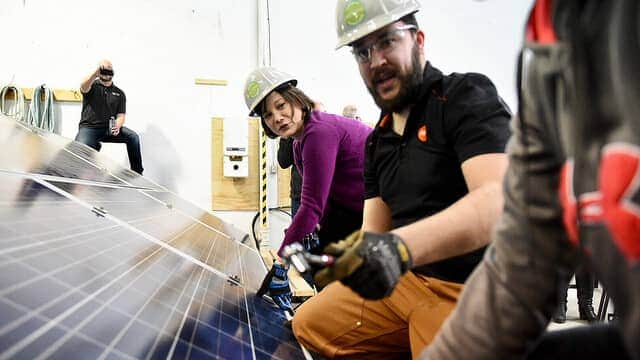 In the U.S.' neighbor to the north, the Canadian province of Alberta is aiming to support 10,000 new rooftop solar installations by 2020 and create more local solar jobs.
To help achieve that goal and longer-term solar market growth, the Alberta government has launched the Residential and Commercial Solar Program, a five-year rebate program to subsidize the installation of solar electricity generation atop residential and commercial buildings across the province. The government has allotted an initial C$36 million for the first two years of the new program.
In a press release, the government says solar uptake has doubled in Alberta since 2015, bolstered by initiatives like the Alberta Municipal Solar Program and the On-Farm Solar PV Program. Over the next five years, the Residential and Commercial Solar Program will build on these existing programs, as well as play a major role in reaching the near-term goal of 10,000 new installations.
"There's a lot of buzz in Alberta around small-scale solar. This program will make solar power affordable for more Albertans, leading to new panels on 10,000 Alberta rooftops by 2020. Along the way, we will create jobs and local expertise in an emerging industry," comments Shannon Phillips, Alberta's minister of environment and parks and minister responsible for the climate change office.
The Alberta government says homeowners, businesses and nonprofit organizations will receive rebates for rooftop solar panels that meet the program requirements as early as this summer. In its first two years, the Residential and Commercial Solar Program is expected to support the creation of 900 jobs in Alberta's solar sector; cut solar installation costs by up to 30% for residences and up to 25% for businesses and nonprofits; and reduce greenhouse-gas emissions in the province by about a half-million tonnes, the equivalent of taking 100,000 passenger vehicles off the road.
To ensure Albertans receive timely access, the government is posting a request for proposals to identify a third party to deliver the new program. Details will be defined in coming months, including qualifying systems, installation and eligibility requirements.
The Canadian Solar Industries Association (CanSIA) says the country's solar industry is primed to participate Alberta's new program.
"Alberta, a province best known for its oil and gas industry, is also rapidly becoming western Canada's leader in renewable energy," says John Gorman, president and CEO of the Canadian Solar Industries Association. "The Government of Alberta is positioning the province for the diversification of its energy future by exploring another one of its abundant energy sources – the sun. More Albertan households and small businesses will now be empowered to go solar, strengthening local economies and creating jobs. The government has delivered on their word, and the Canadian solar industry is ready to deliver in return."
David Dodge, chair of provincial agency Energy Efficiency Alberta, adds, "The Prairies have the best solar resources in Canada, and there are a lot of potential investment opportunities. This is the first of several programs that will help create jobs and diversify Alberta's energy economy into clean sources of energy."
Rob Harlan, executive director of the Solar Energy Society of Alberta, says, "Albertans are ready to go solar, with growing demand, a world-class solar resource and an eager and capable solar industry. A sustained government push has been the missing piece for creating local jobs and clean energy in our province."
Photo courtesy of the Alberta government: Minister Shannon Phillips helps install solar panels at the Gridworks Solar Energy Training Center.