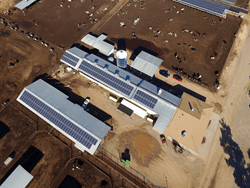 At Du Brook Dairy in Casa Grande, Ariz., a 314 kW SunPower solar power system designed and installed by Sun Valley Solar Solutions has reduced the dairy's reliance on purchased utility grid power by as much as 50% and is projected to save more than $520,000 in the first 20 years.
"Dairies use massive amounts of electricity from critical technology such as climate control systems, milking machines and refrigerators," explains John Robison of Sun Valley Solar Solutions. "Du Brook Dairy owners Pat and Nadine Dugan understand that generating their own emission-free solar power while significantly controlling operational costs is a win-win for the community and their business."
As part of its services, Sun Valley Solar assisted the dairy in securing a U.S. Department of Agriculture Rural Energy for America Program grant, which is in place to assist agricultural producers with renewable energy investments and covered 25% of the cost of the system.
Sun Valley Solar says it designed and installed the solar power system on rooftops and custom shade structures at the dairy, which houses over 2,000 head of cattle. The shade structures double as cow shading during Arizona's hot summer months.