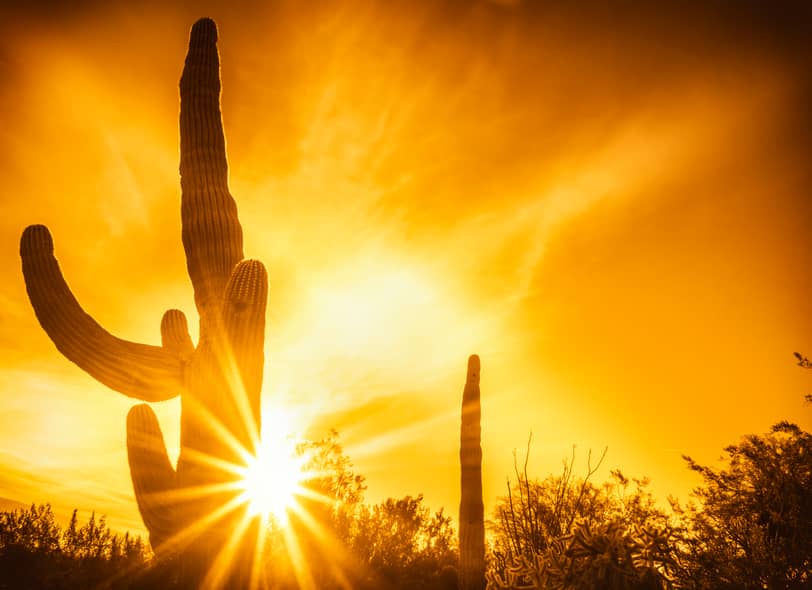 An Arizona utility regulator has made a sweeping energy policy reform proposal, which includes a call for 80% of the state's electricity generation to come from clean energy by 2050 along with the goal of having 3 GW of energy storage deployed by 2030.
Introduced by Arizona Corporation Commissioner Andy Tobin, the plan would build on the state's current 15% by 2025 renewable energy standard established by the Arizona Corporation Commission (ACC) in 2006 and make Arizona home to some of the most aggressive clean energy and storage targets in the U.S.
"This plan establishes Arizona as a nationwide leader in clean energy," says Tobin in a press release. "Living in a desert like we do, our goal has to be to address peak demand. Reducing usage in these peak windows will save Arizonans millions of dollars, but we also think we can do it in a way that is clean and maintains grid reliability."
According to the release, the proposed Arizona Energy Modernization Plan sets a path to clean energy by reviewing Arizona's current energy policies, including the Renewable Energy Standard and Tariff (REST). Tobin credits the state's REST for making Arizona a national leader in the adoption of renewable energy but says it's time for an update.
"It's been over a decade since the Corporation Commission passed the REST, and the energy landscape in Arizona and across the country is drastically different today," says Tobin. "It's no longer enough to just install solar panels as quickly as possible. We need to pair these resources with new technology to maximize their effectiveness and maintain stability." The plan calls for a new "Clean Peak" focus in the REST to encourage dispatchable clean energy with energy storage.
According to the release, expanding energy storage gives Arizona the opportunity to capture low-priced energy during non-peak hours and re-inject that energy back into the grid during on-peak rate periods. The release says the 3 GW energy storage target laid out in this policy would be made possible by recently seen drastic improvements in technology along with falling costs.
"Utilities in Arizona are already partnering with leading companies to deploy proven new technologies in energy storage," comments John Zahurancik, chief operating officer of Fluence, an energy storage joint venture company between Siemens and AES. "This policy provides strong support to take Arizona further in that direction, ensuring the state will realize the economic benefits of clean, low-cost power and get the most from its power infrastructure."
The ACC has worked hard over the past few years evaluating whether energy policies need updating.
"We've held multiple workshops to hear from a variety of stakeholders on a host of issues whose comments have helped to formulate this plan," says Tobin. "Our state needs a forward-looking, comprehensive energy strategy that can direct decision making at the commission and utility level, and I believe this policy proposal will accomplish this goal."
According to the release, other stakeholders agree with this assessment. The director for the Arizona Regulated Utility Consumer Office (RUCO), Dave Tenney, recently testified before the ACC, saying, "Through no fault of this current commission, the energy programs implemented here in Arizona, in some instances contradict and even compete with each other. This lack of coordination has at times paralyzed implementing even the smallest energy goals."
If the policy is approved, the ACC would also act to promote healthy forests through expanded biomass electricity generation. Specifically, the release explains, regulated utilities will be jointly charged with procuring 60 MW of their electricity from biomass generators as a means of cleaning up nearly 1 million acres of the state's overgrown forests and increasing use of renewable energy over the next 20 years. Since 2002, Arizona has seen over 5.2 million acres burned, 29 lives lost, and over $162 million spent on wildfires in the state, according to the release.
"The work we have been able to do with Commissioner Boyd Dunn to highlight the urgent need for action on our forests and the role that utilities can play in making a difference has been outstanding," says Tobin. "No comprehensive energy plan in this state would be complete without addressing this issue."
According to the release, the proposed plan would establish several guiding principles for energy modernization including resiliency, affordability and reliability, innovation, and resource diversity. It also makes additional policy proposals in the areas of energy efficiency, resource planning, peak demand reduction, and electric vehicle infrastructure.
Tobin is hoping that the full ACC will be able to discuss and consider the proposed policy at the upcoming Open Meeting on Feb. 6-7. More details of the proposed Arizona Energy Modernization Plan are available here.