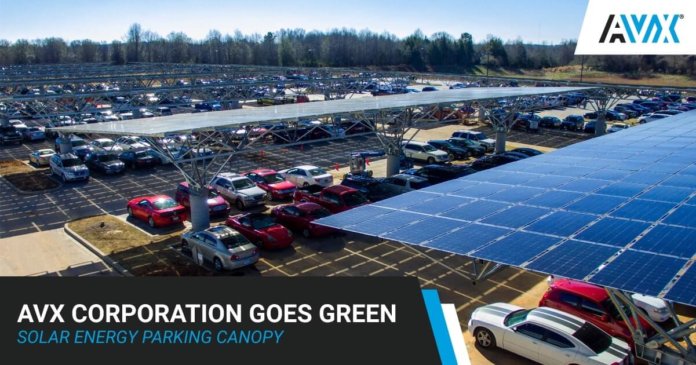 AVX Corp., a manufacturer of electronic components, recently installed a 908 kW solar parking canopy at its corporate headquarters in Fountain Inn, S.C.
Consisting of 2,700 PV modules, the installation, completed by Atlanta-based Hannah Solar, boasts a projected annual output of 1.3 GWh of clean power.
Comprising 10 double cantilever monocrystalline architectural solar arrays that cover the employee parking lot, the solar canopy is expected to generate nearly 150,00 kWh of electricity by the end of this spring. The clean energy will be used to subsidize the headquarters' daily energy consumption, lessen electricity expenses and offset carbon emissions.
"For us, the decision to install a solar canopy in the employee parking lot of our corporate headquarters was both fiscally and environmentally beneficial," says Michael Maich, senior project engineer at AVX. "This latest effort to help reduce our global environmental footprint was also an attractive alternative to installing traditional rooftop or ground-mounted solar panels since it both generates clean, sustainable energy, as well as provides an abundance of shaded parking spaces."
AVX is also installing multiple electric vehicle charging stations that will use solar power to recharge employees' cars.