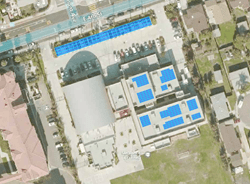 Baker Electric Solar and San Diego Academy have announced plans to install a 139.65 kW rooftop and carport solar system, to be completed by the first quarter of next year for the K-12 school.
According to San Diego-based Baker, the project is expected to save the school more than $55,000 in energy costs in the first year of operations.
The project will comprise 399 Hyundai 350 W solar panels and four SMA inverters. With no upfront costs, San Diego Academy has secured a power purchase agreement with a fixed payment for 25 years, including an option to purchase the system outright.
"As a small, private, Seventh-day Adventist Christian school, we believe that part of our duties as Christians is to take care of the earth that God created," says Nic Lindquist, school principal. "And beliefs aren't worth much if you don't put them into practice; that's why we decided to go solar. It reinforces that we are indeed stewards of the earth looking towards the future."
"Based on past consumption, the academy will reduce its electricity costs by 60 percent, with more than $1.4 million net savings over the 25-year warranted life of the solar modules," adds Scott Williams, Baker's director of commercial solar.