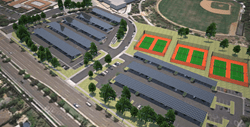 Baker Electric Solar has partnered with Cathedral Catholic High School to build a 1.1 MW solar carport system. Baker says the project will help the San Diego-based school achieve savings of $80,000 to $100,000 per year on its electrical energy costs.
Baker will design and install 1,798 LG solar panels and 25 SMA inverters using a carport configuration. Ultimately, subcontractor RBI Construction will build eight carports, and the solar installation is projected to be substantially complete by the beginning of the 2016-2017 school year.
"We're focusing on being a green school. We want to be responsible citizens and good caretakers of the earth. That's part of our commitment as Catholics," says Stevan R. Laaperi, president of Cathedral Catholic High School. "The savings we realize as a result of going solar will reduce our energy costs and help keep tuition increases to a minimum. This will enable broader community access to the amazing education we provide here at Cathedral Catholic."
Baker says it also offered Cathedral Catholic creative financing through TRITEC Americas' power purchase agreement, which gives Cathedral the option to purchase the system outright.