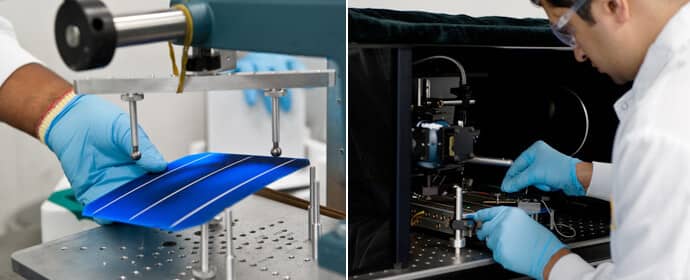 Editor's note: Originally published on April 26, this article has been updated to include additional comments and analysis.
Bankrupt solar manufacturer Suniva has filed a petition with the U.S. International Trade Commission (ITC) seeking new import tariffs on solar cells and minimum import prices on modules made anywhere outside the U.S.
The Georgia-based manufacturer entered Chapter 11 bankruptcy earlier this month and had publicly blamed its financial troubles on "global manufacturing overcapacity, particularly in Asia, and the ongoing influx of foreign imports, which continue to drive down domestic prices."
Suniva has now asked the ITC to conduct a "global safeguard" investigation under Section 201 of the Trade Act of 1974. If the commission determines solar imports are, indeed, causing serious harm to U.S. manufacturers, it will recommend a remedy to President Donald Trump, who will be tasked with making a final decision.
Considering the Trump camp has already mentioned the Section 201 option for separate trade issues, does Suniva's case have a chance of ultimately getting approved by the Trump administration?
"With this president and his rhetoric on trade on the campaign trail, there is definitely more than a chance," says Raj Prabhu, CEO and co-founder of clean energy communications and research firm Mercom Capital Group. "I am sure Suniva filed a Section 201 petition with the Trump campaign's trade views and comments on 201 in mind. They are teeing it up for him if wants to bite and get a win that he can tout."
In its petition, Suniva has proposed a four-year, tiered import tariff starting at $0.40/W per solar cell, with a minimum price of $0.78/W per module, in year one. The tariff would decline annually before reaching $0.33/W per cell, with a minimum price of $0.68/W per module, in year four.
According to Prabhu, current module prices are approximately $0.35/W, much lower than the floor price Suniva is seeking.
"Module prices differ a bit around the world, but $0.78/W would be the highest-priced panels in the world," says Prabhu. "This would have a significantly negative impact on demand in the U.S., and that is where the solar jobs are."
He adds, "The other scenario would be that the final minimum import price could be much lower compared to the proposal, meaning the Trump administration gets to claim a win and the impact is a lot less than expected."
In an announcement, Matt Card, Suniva's executive vice president of commercial operations, explains the reasoning behind the company's petition.
"The modern wave of solar technology was born from research in U.S. universities, industry and government, and U.S. manufacturers led the way in the commercialization of these technologies – and yet today, we stand fighting for the survival of jobs in an industry that the U.S. created," says Card. "Without today's requested global safeguard, the U.S. solar manufacturing industry will die, and we will not only lose solar manufacturing jobs today, but also those future jobs that will come from investing in the solar manufacturing industry of tomorrow."
Although the U.S. government's previous solar trade actions targeted imports from specific countries, including China and Taiwan, Suniva argues that foreign manufacturers set up shop in other markets to successfully avoid tariffs; therefore, the company's Section 201 petition targets foreign-made cells imported from around the world. (Oddly enough, Suniva itself has been majority owned by Shunfeng International Clean Energy, a China-based company, since 2015.)
"This can easily lead to a global trade war," warns Prabhu. "As we have seen in previous cases, there is always retaliation in one form or another. Demand in the U.S. can slow down, resulting in thousands of people losing jobs. There will be a lot of uncertainty in the next several months when all this is going on, which in itself, could slow down the momentum in the sector. Potential upside is limited to the few manufactures that still make panels in the U.S., but there are not many jobs that will come with it."
The Solar Energy Industries Association (SEIA) has spoken out against Suniva's petition.
"The Solar Energy Industries Association, representing 1,000 member companies across the entire solar supply chain, seeks to promote and protect the interests of the 9,000 U.S. companies engaged in the solar industry and the more than 260,000 American workers they employ," says Abigail Ross Hopper, the association's president and CEO, in a statement. "SEIA supports fair and free trade of solar equipment to grow the American solar industry, which is strengthening our national security and driving local and national economic growth.
"While we have not had a chance to fully review Suniva's petition to the International Trade Commission, we strongly urge the federal government to find a resolution that bolsters the competitiveness of American solar cell and panel manufacturing, which employs approximately 2,000 people in the U.S., without erecting new trade barriers," Hopper continues. "SEIA opposes any resolution that restricts fairly traded imports of solar equipment through new tariffs or other barriers that endanger the livelihoods of the 260,000 American solar workers and their families living in every state in the Union."
Meanwhile, SolarWorld, the manufacturer whose petitions kick-started the U.S. solar duties against China and Taiwan, has also chimed in.
"The case of Suniva dramatically demonstrates that the U.S. solar manufacturing industry still suffers from unfair trade," says Juergen Stein, U.S. president of SolarWorld, in a statement. "In particular, highly subsidized Chinese companies, as well as other producers, are globally dumping their products, forcing competitors to take losses, lay off workers and exit the market. SolarWorld has fought decisively against this kind of unfair competition for many years. China now has managed to circumvent and violate existing trade defense measures in several ways and again incited a ruinous price race to the bottom, destroying U.S. manufacturing jobs."
Stein notes SolarWorld "will assess the case brought by Suniva but prefers that any action to be taken against unfair trade shall consider all parts of the U.S. solar value chain. We're committed to helping to find a way that also considers the interests of other parties playing fair in the U.S. solar market."
Mercom's Prabhu says, "We hope that the final decision taken by the administration is with the big picture and jobs in mind and not for any political reasons." Nonetheless, he adds, "It goes without saying that it is difficult to predict what Trump will do."
Photo courtesy of Suniva's website