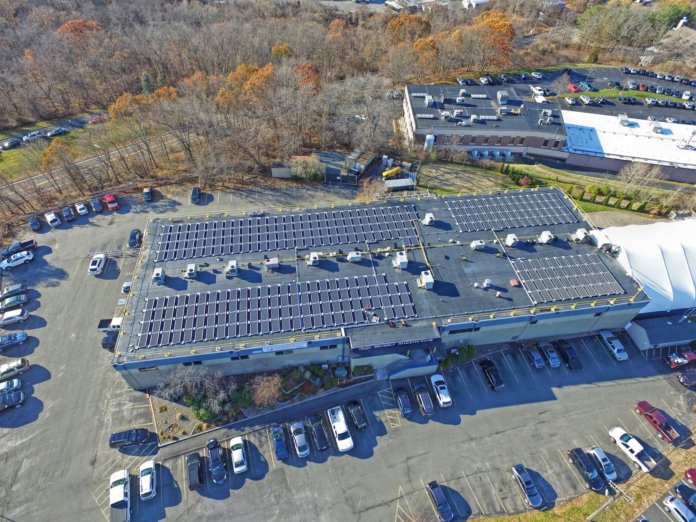 Beverly Athletic Club (BAC), a health and athletic club in Beverly, Mass., and commercial installer Solect Energy have completed a 128 kW solar energy system on BAC's roof.
The solar array consists of 320 photovoltaic panels and is expected to produce 155,041 kWh of energy annually. The power generated will cover 33% of BAC's energy needs, and BAC is expected to save approximately $233,000 over the course of 10 years.
Solect says it examined BAC's energy usage patterns and other factors in order to design the optimum solar energy system. Solect then worked to make sure that BAC would achieve maximum return on investment through a myriad of solar incentives.
BAC is projected to save an average of approximately $23,000 annually on its electricity bill. Additionally, BAC is able to take advantage of state and federal tax and financial incentives, including solar renewable energy certificates (SRECs), which are financial incentives based on the amount of solar energy the system generates. As Solect explains, electricity providers in Massachusetts purchase SRECs to help them meet their state-mandated goals of a percentage of power coming from renewable energy sources.
"Solect did a great job making a complicated proposition clear and straightforward, and they were very helpful in shepherding us through the process, but the best part of this solar project is yet to come," says Ed Soul, owner of BAC. "We anticipate our electric bill dropping by a third. In addition, we are thrilled to be able to lower our carbon footprint and continue our commitment of being a good steward of the environment."
BAC has been committed to a variety of green initiatives. The club recycles, works to reduce paper waste, and has shifted to all LED lighting to reduce power consumption. It also contributes to green initiatives such as Change is Simple, which educates youth on how to be more green and protect the planet.
"Beverly Athletic Club turned to solar to substantially reduce their operating costs while also pursuing their goal of being an environmental leader in their community," says Jeff McCallion, business development manager at Solect Energy. "The facility's flat roof made it ideal for installing a large array that could generate a third of their electricity needs. Not only does BAC gain significant financial savings, but they also garner recognition and respect from their members and the community at large for their leadership in sustainable practices."
BAC will use some of the savings from the solar system to continue making efficiency improvements. Additionally, funds will be earmarked for the continual updating of club facilities and equipment.