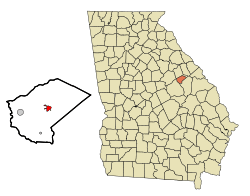 Boviet Renewable Power recently tapped $2.4 million in sale-leaseback financing from Key Equipment Finance, an affiliate of KeyCorp, to support development of a 1.75 MW DC project in Gibson, Ga.
The solar power facility, which was built and installed by New Orleans-based Joule Energy, sits on 11 acres and features ground-mounted, single-axis tracker technology paired with polycrystalline modules from Boviet Solar Technology Co. Ltd., the sister company of Boviet Renewable Power. Atlanta-based electric utility Georgia Power is off-taking the energy via a power purchase agreement.
Key Equipment Finance's sale-leaseback financing allows for monetization of the tax benefits, inclusive of the investment tax credit and depreciation.
"Solar developers benefit from financing solar capital expenditures by preserving cash and credit lines for other uses," says Doug Beebe, vice president of energy finance for Key Equipment Finance's Energy Solutions group.