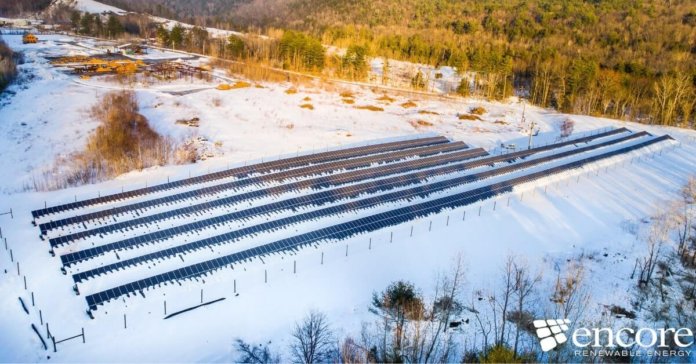 Long View Forest Inc. and Encore Renewable Energy have commissioned a 745 kW community solar array in Vermont.
The project is located on three acres at Long View's new headquarters and woodyard on Ferry Rd. in the Town of Hartland. Long View is a forest management and contracting business with operations in the Connecticut River valley.
The project is sited at a remediated brownfield property that was formerly used as a saw mill and lumber treatment facility. The solar array is expected to produce approximately 900,000 kWh per year, enough to power approximately 125 homes annually. Long View selected Encore as its turnkey partner to develop and construct the project.
Mascoma Bank provided debt financing for the project and entered into a long-term agreement to purchase net metering credits. The project first generated electricity in December, and it is now providing savings for Mascoma, as well as the Montshire Museum of Science, located in Norwich, Vt. Together, Mascoma and the museum are expected realize approximately $700,000 of savings on their electricity bills over the 25-year term of the agreement.
The renewable energy certificates produced by the project will be conveyed to Green Mountain Power to help meet Vermont's renewable energy standard to produce 75% of the state's electric generation with renewables by 2032.
"Developing solar projects on undervalued real estate is an emerging market for community-scale solar systems because it's a good deal for everyone involved," says Chad Farrell, CEO of Encore Renewable Energy. "It turns land that has previously been neglected into an economic driver for the community, supports Vermont's transition to a clean energy economy, and saves customers money long term. It's a win-win-win proposition."