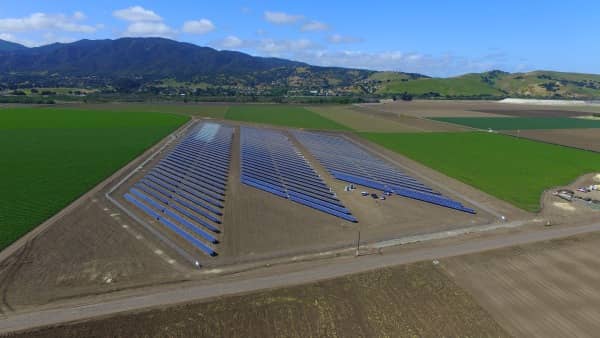 CalCom Solar, a design-build company that focuses on solar energy systems for agriculture and water districts, says it has installed a 2.2 MW solar system at Salinas, Calif.-located D'Arrigo Bros. Co., a grower, packer and shipper of fruits and vegetables.
CalCom is installing NEXTracker self-powered tracking technology in the array. The company says the solar array is interconnected under Pacific Gas and Electric's (PG&E) Net Energy Metering Aggregation program, which makes it possible for D'Arrigo to offset many farm meters with one solar system.
The project received its permission to operate from PG&E on April 28, and it is the largest customer-owned, net-metered solar power project in Monterey County, CalCom says.
"CalCom Solar had the technology and knowledge that helped solar energy work for us, both operationally and financially," says John D'Arrigo, president, CEO and chairman of the board of D'Arrigo Bros. "Solar deployment enhances our business and sustainability goals: It's a crucial resource that makes great environmental and economic sense, enabling us to reduce our energy costs while improving the bottom line."
"For over nine decades, D'Arrigo Bros. has continually strived for excellence. By deploying 2.2 MW of solar power, D'Arrigo Bros. serves as an example to the entire agricultural sector. Their new solar power system, outfitted with NEXTracker's advanced trackers, will generate 4,320,600 kWh annually," adds Dylan Dupre, vice president of business development at CalCom Solar. "The system will help D'Arrigo hedge against future utility rate increases, delivering more than $20 million in utility savings over the next 25 years."