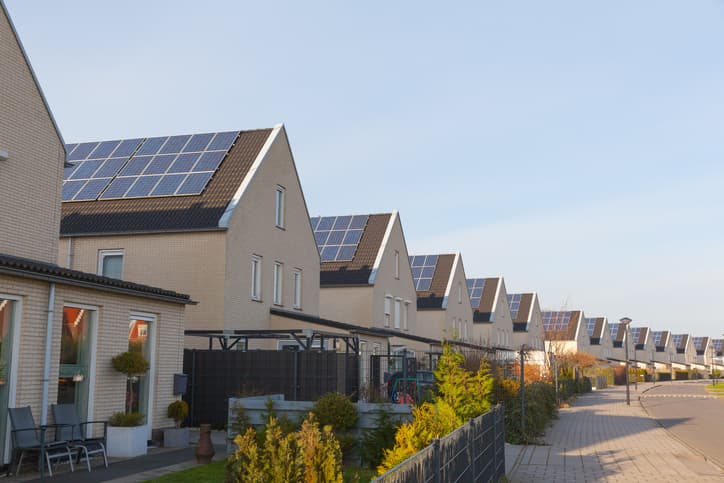 Scott Wiener, a newly elected California state senator representing District 11, has introduced legislation to require the installation of solar power on new residential and commercial buildings throughout California.
The statewide requirement would resemble a city mandate Wiener authored and helped pass last year as a member of the San Francisco Board of Supervisors. In April, the board unanimously approved a city ordinance requiring new small and midsize buildings in San Francisco to include solar. Smaller California cities, such as Lancaster, also have similar solar mandates.
Under existing California state law, all new residential and commercial buildings up to 10 stories tall must have 15% of their roof area be "solar ready," meaning unshaded and free of obtrusions. As with his San Francisco ordinance, Weiner's new senate legislation would build on the current state law by mandating that solar actually be installed on the 15% of "solar ready" roof area of new small and midsize buildings in California. That can include either solar photovoltaic or solar water installations.
In a press release, Wiener points out that the legislation would make California the first state in the U.S. to require solar to be installed on new construction. He also raises concerns about the incoming Trump administration.
"Fighting climate change and building a sustainable future require us to take immediate action to put in place real clean energy solutions," says Wiener. "Our environment and our future generations need us to act now, especially as a wave of climate change deniers invade Washington as part of the new presidential administration. Climate change is real, and we must reverse course from the polluting energy practices that got us here, not double down on dirty power. California can – and will – remain the national leader in building a clean energy future, and solar power is critical in moving us down that path."
"Solar is now a major part of the California economy and California construction," comments Sean Gallagher, vice president of state affairs at the Solar Energy Industries Association. "California is the largest solar market in the United States, and that leadership shows: The industry employs more than 75,000 Californians and contributed more than $7 billion in project investment in 2015 alone. Solar is increasingly a standard feature of new construction, with nearly 10 percent of new homes in the state's most populous areas now being equipped with solar. We can and should build on that success."