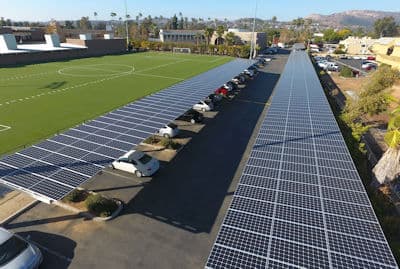 Baker Electric Solar recently designed and installed a 321.75 kW solar carport system for California's Escondido Charter High School (ECHS), which now expects to see a 63% reduction in its annual electricity bills.
The 400-student school, located in San Diego County, also anticipates saving an estimated $108,926 during the project's first year of operations. The high school first installed solar on its gymnasium roof eight years ago. However, with continued growth of the school, this system could not keep up with energy demands, says Baker.
ECHS secured a power purchase agreement, which enabled the school to pay nothing for the construction of the new system and receive immediate savings from the energy produced, the company adds.
"Baker approached us with an opportunity that would cost taxpayers nothing and would significantly reduce our facility's electricity costs," says Dennis Snyder, founder and president of ECHS. "With electricity one of our largest expenditures, the Baker proposal made dollars and sense."
Scott Williams, Baker's director of commercial solar, expects the system to provide over $1.68 million in net savings over the project's 25-year lifespan.
"It's great to know these funds will go toward furthering academic success for thousands of students for years to come," he says.