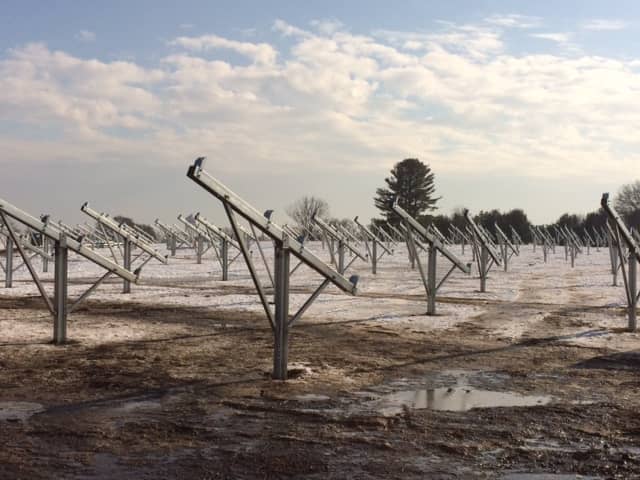 The City of Chicopee, Mass., has officially signed a lease with Chicopee Solar LLC, a subsidiary of ConEdison Development, for a 3 MW solar project that is under way at the site of a former Navy housing property on James Street.
The city issued a request for proposals in August and awarded the project to ConEdison Development in September. According to the city, ConEdison Development has been working under an aggressive construction schedule in order to meet the Massachusetts Department of Energy Resources' Solar Renewable Energy Credits (SREC-II) mechanical completion deadline of Jan. 8, 2017.
The 3 MW solar PV system will be located on 21.6 acres, leaving 5.1 acres available for future industrial development in the northeast corner of the site closest to the Airpark North industrial park.
In 2005, the city explored an acquisition of 27 acres of unused military housing. That transaction was completed in 2011, but the site remained vacant for several years. In 2015, the city was awarded $1 million from the state that required the city to match funds. Since then, the city adds, $2 million has been used to remediate and clear the site to pursue a solar photovoltaic system meeting Department of Defense (DOD), municipal and state renewable energy goals.
Once the solar system is in place and generating an estimated 3 MW of power, Chicopee Municipal Light Plant will be able to lower electricity costs to the base, a possible positive factor in any DOD evaluation of the base's future viability. The solar farm will also allow the city to further its long-term renewable energy goals.
"This is a homerun for the city and the neighborhood," says Mayor Richard J. Kos. "The site will see a substantial improvement, moving from old dilapidated military housing to a regularly maintained solar field with 5.1 acres set aside for business development. We were able to address several issues while providing a resource for Westover and the city as well."
"ConEdison Development is delighted to have been chosen to create a solar installation that will provide a renewable source of energy at the Westover Air Reserve Base site," says Mark Noyes, president and CEO of ConEdison Development. "We look forward to working with the city of Chicopee to deliver a clean energy resource that will be of lasting value both to the base and to the community."
Project photo courtesy of the City of Chicopee