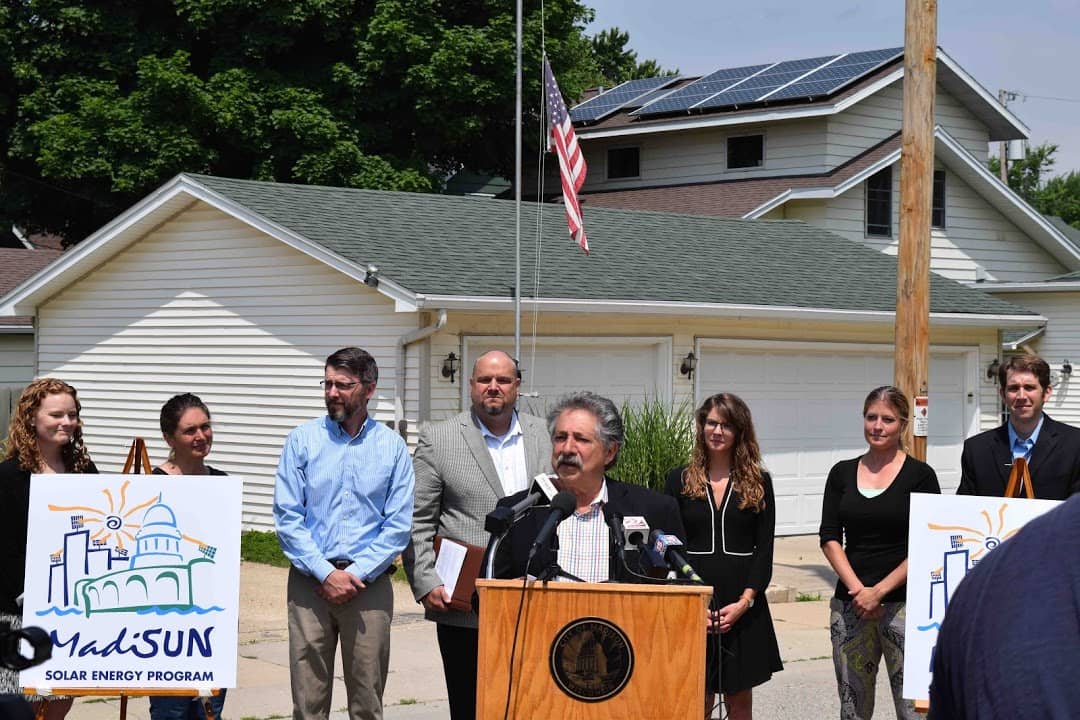 The City of Madison, Wis., has announced two programs aimed at helping residents easily and affordably invest in solar electric systems on their homes. Madison Mayor Paul Soglin launched the programs as part of the city's broader efforts to be more reliant on renewable energy sources.
"We are really grateful for the cooperation of neighborhood leaders and homeowners," says Soglin. "These programs are going to be a financial win for all of us. They're going to be a financial win for those who invest in solar, and they're going to be a financial win for our larger community."
Madison has kicked off the MadiSUN Group Buy for Rooftop Solar program to enable residents to "go solar" together. Through the updated program, a team of community members requests offers from solar companies across the region. The program then pre-qualifies a price and service provider to make it easy for people to join the program. The city, through its contractor RENEW Wisconsin, is actively recruiting households to participate.
The city says its investment in marketing and competitive bidding will drive down the cost for each participant. The cost of installing solar has never been lower, the city adds, as homeowners can receive a federal tax credit for 30% of the system cost and Wisconsin's Focus on Energy program offers up to $2,400 in rebates for installing solar.
Homeowners Steve and Sara Elmore hosted a launch event outside their home, where they installed solar panels in 2012 as part of that year's MadiSUN Group Buy program.
"It's a great day to have solar panels on your roof!" says Steve. "Being part of the Group Buy back in 2012 was a great way to go."
He adds, "We saved a lot of money, and we continue to save money. Overall, about 70 to 80 percent of our energy is produced by the solar panels on our roof. [After we pay off the system] I guess you could consider it free energy, because we'll have paid off our investment and we'll continue to make energy [over] the 25-year lifespan of the panels."
In addition, Madison is partnering with Summit Credit Union on a brand-new Solar Energy Loan Program, through which the city says residents can finance 100% of the system cost at a low, fixed rate. Madison households can borrow up to $20,000 for a solar energy system starting at 4.24% for up to five years, and 4.99% for loans between five and 15 years.
Six community educational events were also announced as part of the program, aimed at helping residents learn more about solar energy and the options available for installing solar. Session dates run between July 7 and Aug. 16th, with more to be scheduled.
Photo: Madison Mayor Paul Soglin launches two new solar energy programs for residents at a press conference on with a home with rooftop solar panels behind him. Photo courtesy of Katie Putz, RENEW Wisconsin