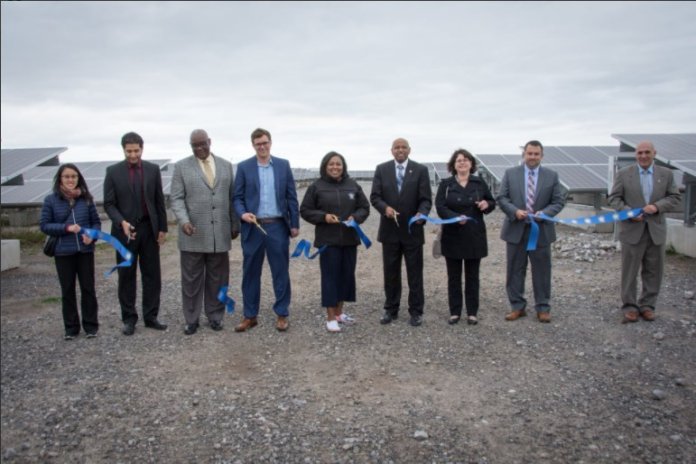 On Wednesday, Rochester, N.Y., Mayor Lovely A. Warren and project partners cut the ribbon on the city's new Solar Field, which was built on a former landfill and will help power City Hall.
"This Solar Field will save taxpayer money, but more importantly, it will help us protect the environment for future generations by reducing our carbon footprint," said Warren. "I want to thank the New York State Energy and Research and Development Authority and all of the agencies in [Gov. Andrew Cuomo's] administration for helping us make Rochester a more sustainable city, which helps us create more jobs; safer, more vibrant neighborhoods; and better educational opportunities for our citizens. I also want to congratulate the Solar Field's owners and operators, AES Distributed Energy, on the construction of this facility and wish them luck as we work together to generate renewable energy for city facilities."
Located at the former Emerson Street Landfill, the new Solar Field holds more than 7,800 solar panels that are expected to generate approximately 3 million kWh of electricity annually. The field was built and will be owned and operated by AES Distributed Energy of Boulder, Colo., which worked with Solar Liberty of Buffalo, N.Y., as its subcontractor. The New York State Energy Research and Development Authority provided financial support to the project.
Alicia Barton, president and CEO of NYSERDA, said, "Congratulations to the city of Rochester for having the vision to turn a former hazardous waste site into an environmental and economic success story. Under Governor Cuomo's leadership, local communities are leading the way in embracing opportunities like this to improve their environment and fight global climate change."
"We are extremely excited to be a part of a project that found a use for land that has sat vacant for close to 40 years and now houses a solar facility, which will deliver cleaner energy for this community for years to come," said Jeff Palmer of AES Distributed Energy. "We look forward to a successful long-term relationship with the city of Rochester and helping the city meet their sustainability goals."
The seven-acre site has been vacant since 1972 and was recently removed from New York State's list of inactive Hazardous Waste Disposal Sites, making the project an excellent example of the successful reuse of a brownfield site for the production of renewable energy. The pad for the solar field was constructed by the city, re-using iron slag excavated during construction of the Port of Rochester Marina, saving the city $4 million in landfill disposal costs.
The Solar Field will move the city closer to the goals laid out in its Climate Action Plan and Energy Plan, which include reducing greenhouse gas emissions 20% by 2020 and 30% by 2040.
Photo courtesy of the City of Rochester, N.Y.'s Twitter account