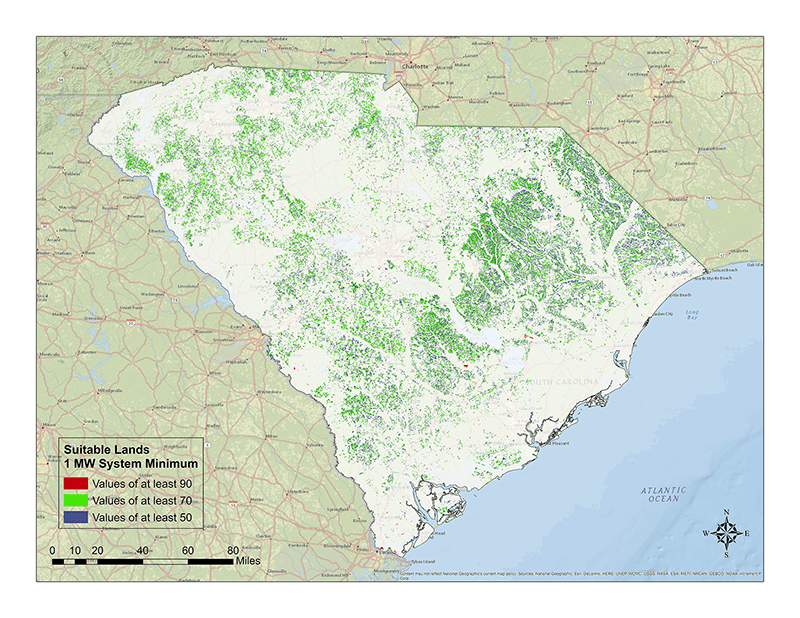 Clemson University has conducted new research that shows where exactly South Carolina is best suited to bring on more utility-scale solar – and how feasible it is to keep growing the state's industry.
Industrial engineering major Amanda Farthing led the study, entitled "Utility-Scale Solar PV in South Carolina: Analysis of Suitable Lands and Geographical Potential." Co-authors were Carbajales-Dale, an assistant professor of environmental engineering and earth sciences; Scott Mason, the Fluor endowed chair in supply-chain optimization and logistics; Patricia Carbajales-Dale, co-director of Clemson's Center for Geospatial Technologies; and Palak Matta, the center's GIS manager.
Farthing and the team at the university's Center for Geospatial Technologies created maps showing which lands in South Carolina would be most suitable for generating solar energy at utility scale.
According to Clemson, which cites statistics from the Solar Energy Industries Association, installed solar capacity in South Carolina grew 303% in the past year. In turn, the research could help the state continue its explosive growth in generating solar energy while minimizing conflicts that could arise over land use.
Suitable lands for 1 MW and 5 MW developments are peppered across the state, but the highest concentration is in a swath that runs from the North Carolina state line around Marlboro, Dillon and Horry counties to the Lake Marion area, according to the research.
"From this initial study, we've seen there are plenty of suitable land areas for the development of solar energy," said Carbajales-Dale said. "Regardless of policy, it's very physically feasible."
The Clemson team ranked South Carolina's lands on a scale from 0-100, with the higher numbers more suitable for development. The available solar resource was calculated for lands with values of at least 50, 70 and 90.
Farthing and her team found that about 1,256 square miles – or 4.2% of state land area – had a suitability value of at least 70 for 5 MW developments.
For 1 MW developments, about 2,340 square miles had a suitability value of at least 70. According to the researchers, that's slightly smaller than the size of Delaware, and it would be enough to install a whopping 69.6 GW of capacity.
In turn, it would be enough to power more than 7 million homes and would far exceed the 6.7 GW that Stanford University researchers suggested the state generate in solar energy. Researchers in the Stanford study, which was separate from the Clemson research, provided road maps for all 50 states to convert energy systems to 100% wind, water and sunlight by 2050, explains Clemson.
In the Clemson research, lands had to be about 44.5 acres for 5 MW developments and about 8.9 acres for 1 MW developments.
The team eliminated unsuitable lands, including urban areas, airports, national forests, parks, national wildlife refuges, wilderness areas and protected marine environments.
Researchers also considered slope and aspect. The best place to install the photovoltaic panels that soak up the sun's rays are in flat areas, Farthing said. When there is a slope, it should face south to get the most exposure to the sun, she added.
According to Clemson, the Pee Dee and inland areas of the Lowcountry came out as the best places in the state for utility-scale solar generation. A diagonal swath also runs from the southern Upstate and northern Midlands at the Georgia border northeast to the North Carolina border around Spartanburg, Cherokee and York counties.
In comparison, the least suitable lands were along the coast: "Wetlands have a lot of environmental benefits, and the wet ground is not a good place to install photovoltaic panels," Farthing said.
"The big takeaway is that solar presents a great opportunity in South Carolina and that it can be developed in a way that considers both environmental and social preferences," she added.
The full analysis can be found here.