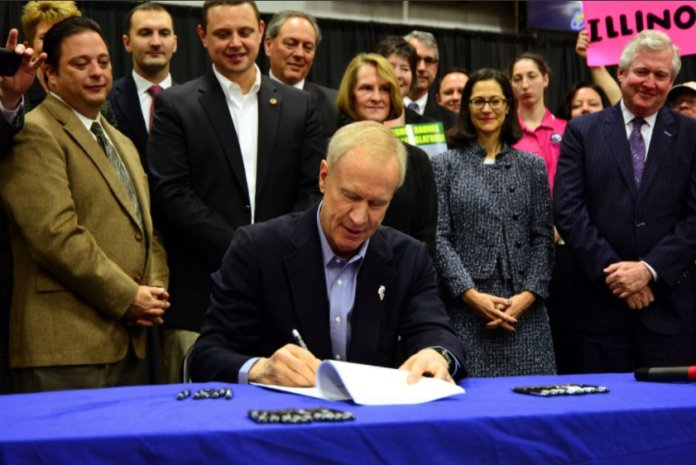 On Thursday, the one-year anniversary of the Illinois Future Energy Jobs Act (FEJA), utility Commonwealth Edison (ComEd) announced four organizations have been selected to develop and conduct solar pipeline training programs made possible through grants funded by FEJA. Elevate Energy, Illinois Central College, OAI Inc., and the Safer Foundation will receive a total of $3 million as a part of the first wave of FEJA funding to train individuals to work in the solar industry.
Passed by the Illinois General Assembly and signed into law by Gov. Bruce Rauner on Dec. 7, 2016, FEJA allocates a total of $30 million to develop and implement a number of major energy job training programs with different focuses.
According to ComEd, the $30 million in funding will be allocated in three $10 million increments paid in 2017, 2021 and 2025 and used to support job training programs over the next 12 years. The newly announced solar training grants come after ComEd awarded $7 million in grants for multicultural training and a craft apprenticeship program last month. ComEd says the $10 million in funding for all three initial workforce training initiatives will be disbursed before the end of this year.
As FEJA outlines, the solar pipeline training effort will focus on individuals who are from economically disadvantaged and environmental justice communities, alumni of the Illinois foster care system and returning citizens.
"ComEd is committed to helping grow renewable energy in Illinois and equally dedicated to developing the workforce of the future who will help integrate more clean energy like solar, into the Illinois energy grid," says Anne Pramaggiore, ComEd president and CEO, in a press release. "The training programs that will be created by the organizations announced today will ensure that the next generation of energy workers is prepared to take full advantage of the opportunities created by a new clean energy economy. We are excited to see this part of the FEJA take flight and look forward to working with these partners to ensure success of these job training programs."
ComEd says it engaged the Chicago Community Trust (CCT), an Illinois foundation that works to transform lives and communities, to develop and administer a rigorous request-for-proposals process to evaluate proposed solar pipeline training grantees and their programs. CCT, with the help of a technical review committee and policy review committee, made up of workforce development, energy markets, community development and organizational capacity experts evaluated all proposals.
According to ComEd, grantees selected to receive funding were determined based on the following criteria: geographic reach, experience delivering workforce training programs and alignment with the goals of the FEJA legislation, including successful recruitment, training, and placement of trainees who are or were foster children and returning citizens.
As Peggy Davis, chief officer of programs and strategic integration at CCT, remarks, "Our partnership with ComEd gives us the chance to support the workforce development goals of FEJA while helping Illinois pivot to a green economy. We are confident that the organizations we selected to receive financial support align well with our shared goal of building sustainable communities and an inclusive economy, especially among those who have experienced hardship."
FEJA was passed last December with broad bipartisan support from more than 200 businesses, labor, environmental, faith-based and other groups and became effective in June. Although FEJA was commonly deemed a "bailout" for two struggling nuclear power plants in Illinois, the comprehensive energy legislation also included a number provisions expected to benefit the solar industry.
Photo courtesy of ComEd: Gov. Bruce Rauner, R-Ill., signed the Future Energy Jobs Act into law on Dec. 7, 2016.