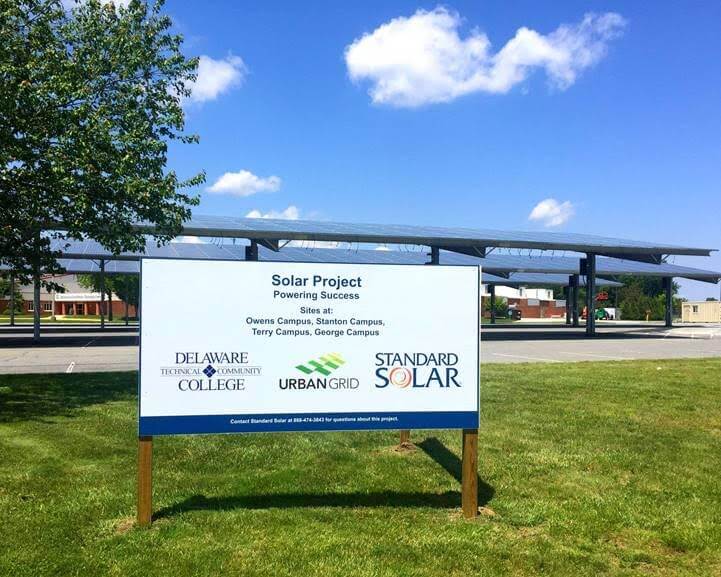 Standard Solar Inc., in a partnership with Urban Grid, has completed the second phase of a 2.1 MW, two-phase solar project for Delaware Technical Community College.
The final phase features a 449 kW carport and a 296 kW rooftop array on the Terry Campus in Dover and two rooftop arrays totaling 585 kW on the Owens Campus in Georgetown. Phase one of the system included 806 kW on four campuses and began producing energy in 2013. Standard Solar says the combined project is one of the largest solar systems in Delaware and is expected to generate more than 2.96 million kWh per year.
"It's been a pleasure to partner with both Standard Solar and Urban Grid during the past four years as part of the college's sustainability energy management plan to reduce our carbon footprint 20 percent by the year 2020," says Dr. Mark T. Brainard, president of Delaware Tech. "This project, combined with the implementation of over $6 million in energy conservation measures throughout the college and the good work of the campus energy task forces will result in exceeding our goal three years early."
The arrays are expected to offset approximately 12% of the annual total energy needs of four of the college's campuses.
"We look forward to bringing additional affordable energy to the Delaware Tech community, helping it manage its energy future and demonstrating its environmental leadership," says Scott Wiater, president and CEO of Standard Solar. "Developing projects in an educational setting, knowing students will have access to hands-on energy generation learning, is particularly rewarding."
Delaware Tech's focus on advancing energy management studies includes energy labs in all three counties and associate degrees in renewable energy, solar, energy management and building automation systems.
Urban Grid financed the projects through a long-term power purchase agreement with Delaware Tech.
"Urban Grid is very excited to complete this second phase of solar projects for Delaware Tech with Standard Solar. Delaware Tech has shown an unwavering commitment to sustainability and energy independence," states Adam Thompson, vice president of development and operations for Urban Grid.