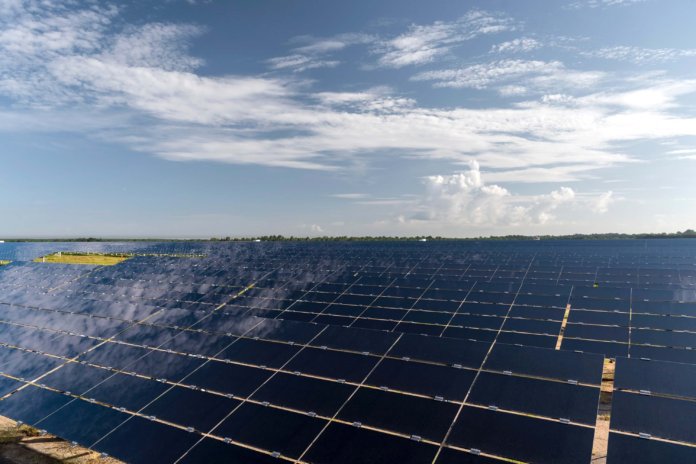 Coronal Energy, an independent power producer focused on utility-scale solar and storage projects, has closed $235 million in total financing, which includes tax equity and debt, for its finished Gulf Coast Solar Center portfolio.
The Gulf Coast Solar Center is a 120 MW, three-site portfolio in northwest Florida built for utility Gulf Power in cooperation with the U.S. Navy and U.S. Air Force. It has been fully operational following an August 2017 "flip the switch" ceremony with project stakeholders.
Finance partners include Marathon Capital, which served as Coronal's exclusive financial advisor for placement of the tax equity funding for the portfolio; U.S. Bankcorp Community Development Corp. (USBCDC); and Sumitomo Mitsui Banking Corp. (SMBC).
"It was a pleasure to work with the Coronal and USB teams on the Gulf Coast Solar portfolio financing, which supported a landmark transaction for Coronal," says Matt Shanahan, managing director at Marathon Capital. "Closing an already complex utility-scale solar tax equity financing in the midst of looming tax reform required a collaborative and creative effort by all parties."
The 120 MW Gulf Coast Solar Center includes three sites: a 30 MW project at Eglin AFB Reservation, a 40 MW project at NAS Whiting Field's NOLF Holley, and a 50 MW project at NAS Pensacola's NOLF Saufley. Spanning more than 900 acres and comprising more than 1.5 million solar panels, the Gulf Coast Solar Center portfolio generates enough electricity annually to power roughly 18,000 homes and reduce CO2 emissions by 3.5 million tons over the 25-year life of the project, according to Coronal Energy. Construction of the portfolio created nearly 450 jobs, with 98% of that workforce hired locally.
"Supporting the Department of Defense and its goal for energy resilience elevates the importance of our work, and we're proud to attract substantial capital to this marquee project," says Jonathan Jaffrey, CEO of Coronal Energy. "Our finance partners are critical to bringing utility-scale solar projects to fruition, and we remain committed to partnering in 2018 and beyond to build and operate more clean, resilient, domestic renewable energy."
USBCDC Vice President Adam Altenhofen says of the partnership, "We were excited to be a trusted partner and help realize this important project for the Department of Defense. We share DOD's goal of energy independence across its footprint."