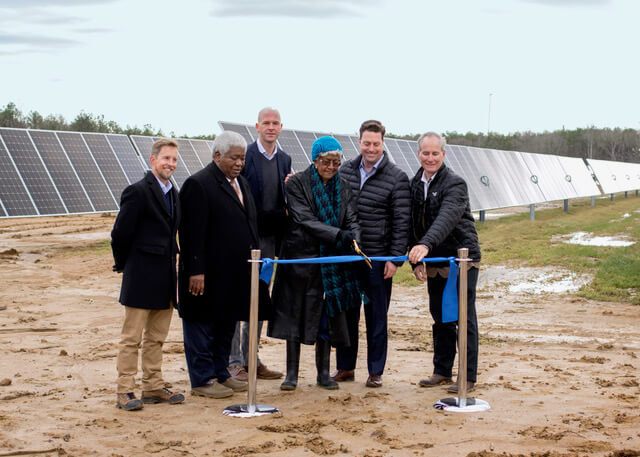 Coronal Energy, an independent power producer focused on utility-scale solar and storage projects, has cut the ribbon on its completed Essex Solar Center, a 20 MW project in Dunnsville, Va.
According to the company, the 174-acre solar project is one of the largest in Virginia, delivering tax revenue and powering approximately 5,000 homes annually with clean, renewable energy. Coronal Energy owns and operates the facility and will sell power to utility Dominion Energy under a 20-year power purchase agreement (PPA).
Joined by public officials, project partners and special guests, Kyle West, vice president of development for Coronal Energy, stated that the project epitomized the best aspects of solar energy.
"For decades to come, the Essex Solar Center will produce income for our landowner partners, deliver low cost, fixed price power to the utility and the local community, and reduce carbon emissions from fossil fuels," said West. "Coronal provided 100 percent financing for the facility under the 20-year PPA, resulting in no upfront cost to the community, further demonstrating our commitment to Essex County residents, the project and its stakeholders."
In attendance at the ribbon-cutting event were representatives from the Southside Rappahannock Baptist Association (SRBA), one of the project's landowner clients and an organization tied to a unique history on the site. In 1902, the SRBA sponsored the establishment of the Rappahannock Industrial Academy (RIA), a private high school for African American youth living in Essex, Middlesex, and King and Queen counties. The school remained open until 1948, and since then, the SRBA has sought to preserve the site and its legacy.
"We're celebrating today with one eye on our future and one on our past," said James Hill, president of the RIA Task Force. "Maintaining ownership and stewardship over this land and its history, while generating income for our work and serving as home to a source of clean, affordable energy for years to come, only adds to the positive legacy of this site."
The remaining leased acreage is owned by a private landowner, Haile Properties LLC.
McCarthy Building Cos.' renewable energy team engineered and constructed the site, which was completed in late December.
"This project represents several firsts for McCarthy, being our first and largest solar plant constructed with Coronal Energy and our first that will serve Dominion Energy," said Matt McMullan, project director for McCarthy Building Cos. "Working with the Dunnsville community was very rewarding, as well. Not only were we able to recruit and train more than 80 local workers for the Essex Solar Center, [but also]the county provided exceptional support throughout the project, which contributes to the success we all feel as the facility is commissioned."
"Essex County, Virginia, is now home to one of the largest renewable energy facilities in the state, and this incredible accomplishment reflects the vision of our partners, our engaged community and our local leaders who saw it through," said Bill Croxton, chairman of the Essex County Development Authority.