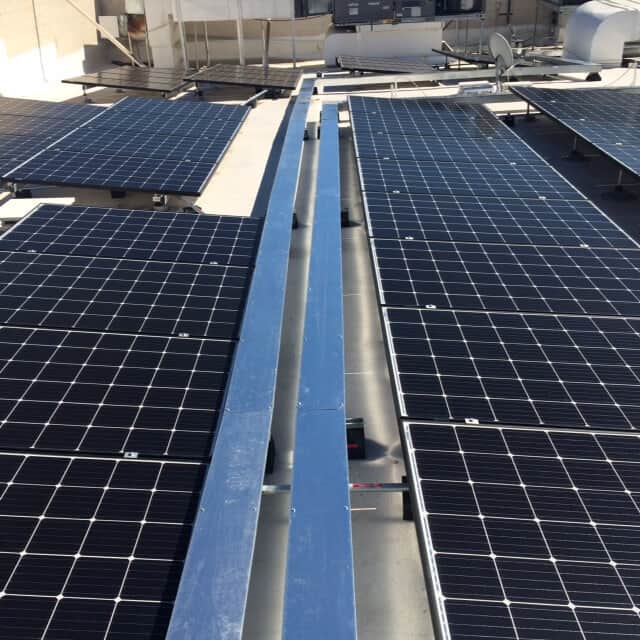 Ice Energy, a provider of distributed thermal energy storage solutions, and Horizon Solar Power, a California-based solar installer, have completed the installation of a solar-plus-storage system at the Palm Springs Cultural Center in California's Coachella Valley.
The project features 73.6 kW of solar panels and five Ice Energy Ice Bear 30s, integrated heating, cooling and energy storage systems that have replaced the center's outdated HVAC system. During the day, the solar PV supplies the energy needs of the center, including charging the Ice Bears. In the evening, the Ice Bears provide up to four hours of cooling using a fraction of the electricity normally needed, according to Ice Energy.
"We're witnessing a trend in which the incentives for solar power export are decreasing, so businesses and homeowners are looking for new ways to maximize their investments in solar PV," says Ice Energy CEO Mike Hopkins. "A well-designed solar-plus-ice-storage system like this one can provide efficient cooling comfort, optimize the use of solar overgeneration, and help utilities to flatten their load on a grid-wide scale."
"The cultural center's greatest energy load comes from turning on the AC in late afternoons and early evenings for community events," says Claude McGee, Horizon Solar Power's director of business development. "The clean energy created by our solar PV system, combined with the flexible storage and cooling solution provided by the Ice Bears, reduces both the center's energy bill and the community's carbon footprint."
The Palm Springs Cultural Center, a nonprofit organization, sought to replace the building's HVAC system after its AC systems failed in 2015. Ice Energy says California's Self-Generation Incentive Program, combined with Property-Assessed Clean Energy (PACE) financing, enabled the center to install the solar-plus-ice-storage system with minimal up-front investment.
Main image: The Ice Bear piping runs alongside Horizon Solar's installation on the rooftop of the Cultural Center.