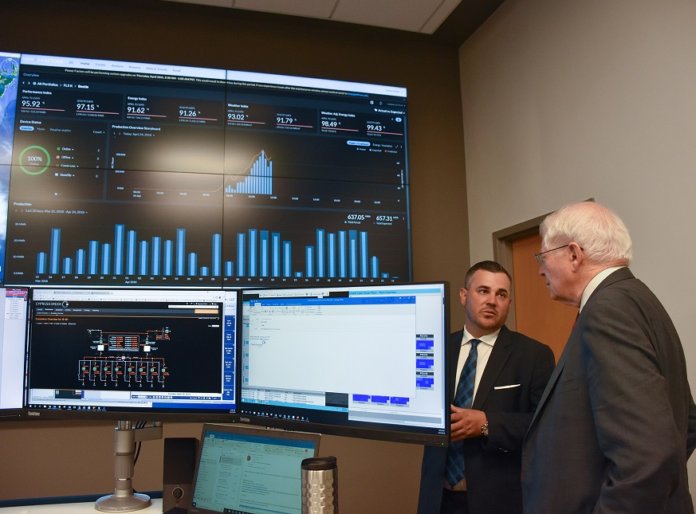 Solar developer Cypress Creek Renewables has opened a new solar control center at its Research Triangle Park office in North Carolina.
Out of the Cypress Creek Control Center (C4), the company operates 232 utility-scale, distribution and rooftop-scale solar facilities totaling nearly 2 GW in 14 states across the country.
The opening of C4 marks a significant milestone for Cypress Creek as the company expands its operations and maintenance services for third-party customers.
"Operations and maintenance is an important and growing business for the solar industry and for Cypress Creek," comments Matthew McGovern, CEO of Cypress Creek. "We now have the team, infrastructure and technology to deliver exceptional customer service and system performance."
The C4 is just one of a handful of North American Electric Reliability Corporation (NERC) – Critical Infrastructure Protection-compliant control centers in the country operated by a solar-only company. The C4 was designed to meet NERC's most stringent cyber security and reliability requirements, notes Cypress Creek. To meet the new compliance level, Cypress Creek has hired 22 people over the past three months.
"North Carolina has been one of the fastest-growing states in the nation for solar capacity, creating thousands of new jobs for hard-working North Carolinians," states U.S. Sen. Thom Tillis, R-N.C. "The opening of Cypress Creek Renewables' new solar control center helps demonstrate why North Carolina is on the leading edge of solar energy production and electrical grid security. Last year, I introduced legislation that was codified into law which requires the Department of Defense to issue a report on significant security risks to the national electric grid, and I look forward to seeing companies like Cypress Creek Renewables participate in the effort to secure our electrical grid from cybersecurity threats."