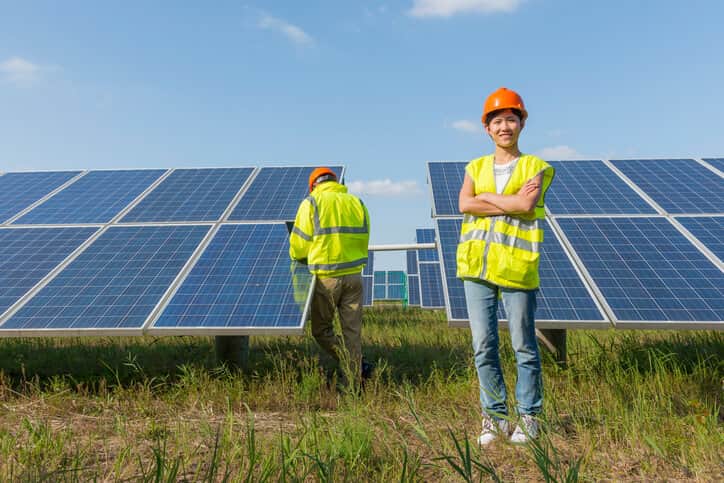 The Solar Training Network, a program funded by the U.S. Department of Energy's (DOE) SunShot Initiative and administered by nonprofit The Solar Foundation, has launched an online solar career platform designed to match job candidates with training and career opportunities in the rapidly growing solar workforce. Accessible at SolarTrainingUSA.org, the free platform will provide career resources for solar job seekers and connect solar trainers and employers to qualified applicants.
As The Solar Foundation's recently released National Solar Jobs Census found, one in 50 new U.S. jobs were in the solar industry last year, with solar employment growing 25% to a total of more than 260,000 solar workers in the country. The study also found that four out of five solar companies reported it was difficult to find qualified workers.
"The Solar Training Network is bridging the gap between supply and demand in the U.S. solar workforce," says Andrea Luecke, president and executive director at The Solar Foundation.
"This website allows trainers, students, and solar employers to connect and communicate seamlessly with one another," comments Gerald Bernstein, director of the Advanced Transportation and Renewable Energy Program at City College of San Francisco. "Employment is expanding rapidly, especially in states that don't already have a large solar workforce. Knowledge of solar training opportunities, financial aid solutions, dedicated solar career resources, and solar job openings will make solar careers obtainable for more people nationwide."
The new platform is free to access and includes an interactive map to connect job seekers with trainers and employers where they live. It also gives training providers, employers, and workforce boards a space to highlight events, job fairs, and career openings.
The Solar Foundation is encouraging solar companies and training providers to sign up and create free profiles at SolarTrainingUSA.org.