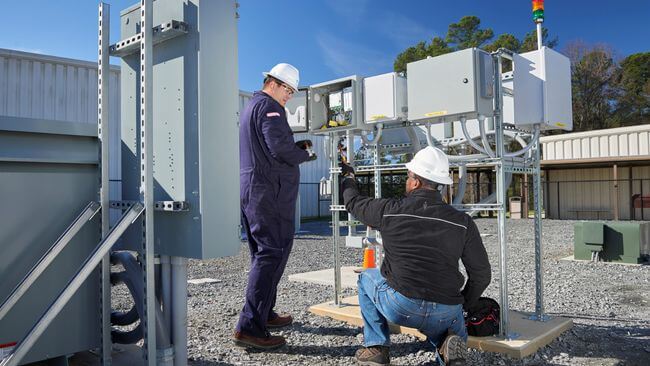 Duke Energy is planning to install battery storage equipment and solar panels that will operate as a microgrid at the Indiana National Guard's Camp Atterbury training operation in Johnson County, Ind. The energy company will also install battery storage equipment at a substation in Nabb, Ind., in Clark County.
Plans for the projects must be approved by the Indiana Utility Regulatory Commission before work can begin. The microgrid at Camp Atterbury would be the first microgrid installed at a National Guard facility in Indiana, according to Duke.
"Given our recent success with the installation of a 17 MW solar power plant at Naval Support Activity Crane, we were eager to find another opportunity to join with the U.S. military to incorporate new technology into our grid operations," says Melody Birmingham-Byrd, Duke Energy Indiana state president. "The project at Camp Atterbury will help us gain valuable operating experience and may help determine how best to expand the new technology to other areas."
"Camp Atterbury, the Indiana National Guard and Duke Energy have worked together on several mutually beneficial projects over the years," says Col. John Silva, Camp Atterbury's commanding officer. "This proposed project will increase our strategic value and give us the ability to continue our mission-critical operations in the unlikely event of a large grid outage."
As Duke Energy explains, a microgrid is a self-contained power system, confined to a small geographic area that has one or more power plants, which are usually relatively small in size. It might also have some means to store energy, such as batteries. Battery storage benefits include shifting energy from lower-usage periods to higher-usage periods, as well as providing more stable grid frequency operation.
Duke Energy touts itself as a leader in energy storage research and development, having deployed approximately 40 MW of energy storage capacity, representing 15 national projects demonstrating 10 different grid applications and functions and eight different battery chemistries.
At Camp Atterbury, the battery and solar panels will primarily provide grid benefits to customers in the region. In the unlikely event of a major grid failure, the microgrid could continue serving customer power demand. According to Duke, the storage battery has a capacity of 5 MW, and the solar installation will be approximately 2 MW
At the Nabb, Ind., substation, a similar-size battery will be installed near the existing substation. This battery will also be used to provide grid benefits, as well as back-up customer power in the event of an outage.