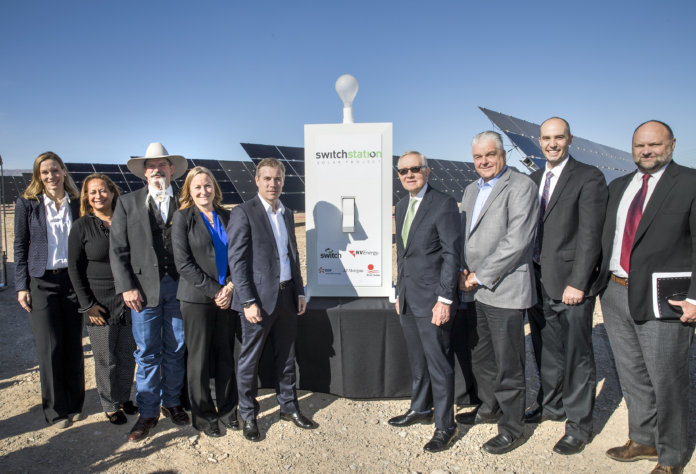 During a celebration event on Monday, EDF Renewable Energy (EDF RE) officially marked commercial operation of the Switch Station 1 and Switch Station 2 solar power plants in Clark County, Nev.
With a combined capacity of 179 MW-AC, the Switch Station facilities are the first utility-scale solar power plants to be built in one of the U.S. Bureau of Land Management's (BLM) designated Solar Energy Zones and will support tech company Switch's commitment to power its facilities with 100% clean energy.
Former U.S. Sen. Harry Reid, D-Nev.; BLM Nevada Director John Ruhs; Clark County Commissioner Chairman Steve Sisolak; Nevada State Energy Office Director Angela Dykema; and other federal, state and local leaders joined executives from project partners to ceremonially "flip the switch" on Monday, marking the delivery of solar power to Switch data centers in Las Vegas and Reno. Power generated by the plants, owned by EDF RE, will be provided to Switch through power purchase agreements (PPAs) with utility company NV Energy.
"Less than a decade ago, Nevada's solar energy landscape was nonexistent, but this commissioning helps fulfill the vision I had to make our state the leader in renewable energy development," said Reid. "A technology giant like Switch committing to using 100 percent renewable energy is truly visionary and grows our clean energy economy by creating hundreds of good-paying labor construction jobs here."
"Technology is revolutionizing the way renewable, clean energy is produced, delivered and consumed, and we are proud to be leaders in driving that change," said Switch Executive Vice President of Strategy Adam Kramer. "Switch Station 1 and Switch Station 2 reflect our company's bedrock value of ensuring the data that runs our planet does not ruin our planet by building new, local, renewable energy resources."
First Solar, a Arizona-based vertically integrated solar company, acquired the BLM-managed land to construct the projects through a lease auction in 2014. EDF RE then bought the solar power plants from First Solar earlier this year.
"I am proud to participate in the dedication of Switch Station 1 and Switch Station 2 solar projects," said BLM's Ruhs. "This is another great example of the federal government and private industry collaborating on improving our nation's energy independence and infrastructure under the auspices of multiple use of our shared public lands."
Following an expedited permitting process, construction of the project took approximately 12 months, creating about 550,000 work-hours, and had a total construction workforce of 1,300. Combined, the power plants cover about 1,797 acres and are comprised of 1,980,840 solar panels, the equivalent of 275 football fields, and 5,450,056 feet of cable, equaling 1,032 miles or the distance from Las Vegas to Seattle. The 179 MW of power generates enough clean solar energy to meet the consumption of 46,000 homes, according to EDF RE.
"The project represents another clear demonstration of EDF RE's ambition in the solar business and also our first opportunity in Nevada, a state with world-class solar resources," said Cliff Graham, EDF RE's vice president of U.S. development. "EDF RE is positioned to invest $3 billion between now and 2020 in renewable projects across the country; we anticipate to deliver on our projection and bring more jobs, tax dollars and investment to Nevada."
"This project confirms that solar energy is now available and priced competitively with other energy sources that rely on carbon-based fuels," added Kathryn Arbeit, vice president of Americas project development for First Solar. "We are thrilled to continue working with our partners to deliver on our joint commitment to build a more sustainable energy future."