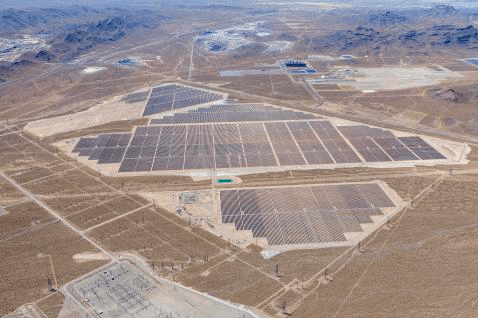 EDF Renewable Energy (EDF RE) says it acquired the 179 MW Switch Station 1 and Switch Station 2 Solar Projects from First Solar Inc. in late June.
The projects, currently under construction, will sell their combined output and environmental attributes under three power purchase agreements to subsidiaries of NV Energy Inc. According to EDF RE, commercial operation dates for the two projects are scheduled for late July 2017 and late September 2017, respectively.
Located in Clark County, Nev., on land managed by the U.S. Bureau of Land Management in the Dry Lake Solar Energy Zone, the projects feature First Solar modules on horizontal single-axis trackers. The expected electricity generated at full capacity is enough to meet the consumption of approximately 46,000 Nevada homes.
"The acquisition of Switch Station 1 and Switch Station 2 marks EDF RE's entry into Nevada, a state with world-class solar resources where we plan to build additional projects in the coming years," says Ryan Pfaff, executive vice president of EDF RE. "We are pleased to be working with First Solar, one of our key solar partners, to deliver affordable, reliable solar energy to NV Energy and its customers."
EDF RE is one of the largest renewable energy developers in North America, with 9 GW of wind, solar, biomass and biogas projects developed throughout the U.S., Canada and Mexico.