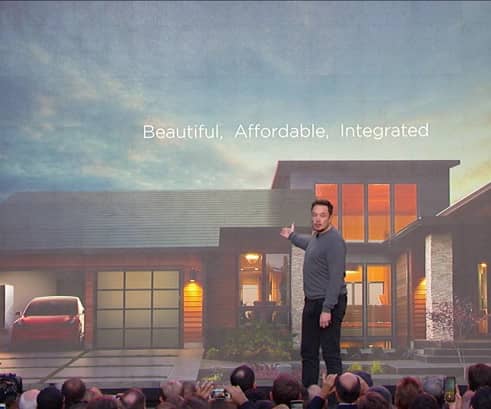 Elon Musk, CEO of Tesla and chairman of SolarCity, introduced highly anticipated solar roof tiles and the newest Powerwall energy storage product during an event at Universal Studios in Los Angeles on Friday. The joint Tesla/SolarCity launch event came as the entrepreneur continues to make his case for Tesla's proposed acquisition of SolarCity, which shareholders are slated to vote on in November.
During the presentation, Musk reiterated his vision for houses with rooftop solar and integrated energy storage that can power both the homes and Tesla electric vehicles parked in their garages.
"People think of Tesla as an electric car company, but really the whole purpose of Tesla was to accelerate the advent of sustainable energy," he said, calling the integration of the clean energy products an "obvious three-part solution."
Although typical residential solar installations include racking and solar panels attached to a rooftop, the new Tesla/SolarCity solar tiles will essentially serve as the roof itself.  The solar tiles certainly aren't the first building-integrated photovoltaic products introduced to the market, but the Tesla/SolarCity event garnered a lot of media and public attention.
Musk showed off some homes fitted with the Tesla/SolarCity solar tiles, which are made of tempered glass and have built-in solar cells that generate electricity. He said the glass tiles are "a lot tougher" and would last "a lot longer" than conventional roof tiles, and they can be installed on new houses or retrofitted on old homes. The new Tesla/SolarCity products are shaped like regular roof tiles, and Musk introduced four designs, including Tuscan, slate, textured and smooth glass tiles.
"The goal is to have solar roofs that look better than a normal roof, generate electricity, last longer, have better insulation, and actually have an installed cost that is less than a normal roof plus the cost of electricity," he said. "Why would you buy anything else?"
The presentation was brief and didn't offer many more details. However, Musk also introduced the newest version of Tesla's home energy storage product, the Powerwall 2. He said the Powerwall 2 is "a big step above" its predecessor, offering twice as much power as the Powerwall 1. Providing 14 kWh of energy storage and 7 kW of power output, the next-gen home energy storage product is expected to cost $5,500.
The entrepreneur also noted the earlier launch of Tesla's latest utility-scale energy storage product, the Powerpack 2. Musk said the Powerpack 2 similarly doubles the power of the previous generation, offering 210 kWh/50 kW, and he added, "This can scale to unlimited size."
Cover photo is a screen shot from Tesla's YouTube video of the launch event