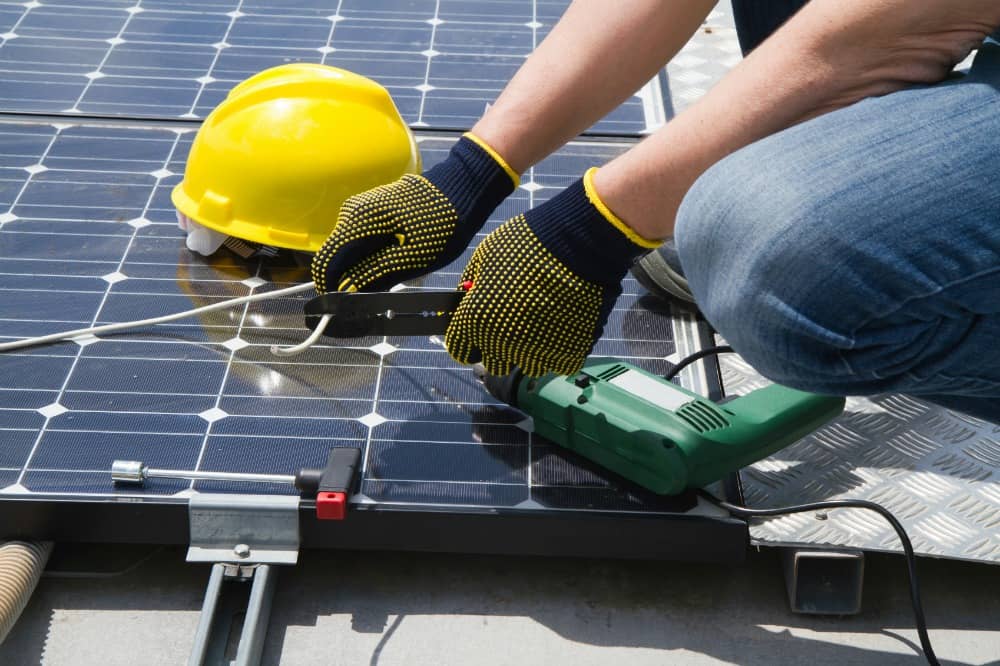 The U.S. Department of Energy (DOE) is increasing its efforts to help provide solar sector job training across the country. The department has announced that five additional military bases will join the Solar Ready Vets program, and the DOE is also awarding $10 million to 10 new projects through its Solar Training and Education for Professionals (STEP) funding program.
"Jobs in the dynamic solar energy sector have grown more than 20 percent per year for the past several years," says Deputy Energy Secretary Elizabeth Sherwood-Randall. "At DOE, we are committed to training the solar workforce of the future through our partnership with the Department of Defense, the solar industry, and community colleges around the country."
According to the DOE, these solar energy training efforts build on the success of the SunShot Initiative's Solar Instructor Training Network, which has trained 1,100 certified solar instructors and provided hands-on solar workforce training to more than 30,000 students nationwide through U.S. community colleges. Today, the DOE continues, the solar industry is a leader in hiring military veterans – employing nearly 17,000 veterans to date – and it is committed to employing 50,000 veterans by 2020.
New Jobs For Vets
As the DOE explains, the SunShot Initiative's Solar Ready Vets program trains U.S. military service members to succeed in the solar energy industry by training them to size and install solar energy systems, safely connect them to the grid, and understand and comply with local building codes. This program, enabled by the U.S. Department of Defense's SkillBridge initiative, allows exiting military personnel to pursue civilian job training, employment skills training, apprenticeships and internships up to six months prior to their separation date.
The new training locations and training partners announced include the following:
– Eglin Air Force Base (Florida) with training provider Florida Solar Energy Center;
– Fort Bragg (Army; North Carolina) with training provider Fayetteville Technical Community College;
– Joint Base McGuire-Dix-Lakehurst (Air Force, Army, Navy; New Jersey) with training provider Rowan College at Burlington County;
– Joint Base San Antonio (Air Force, Army; Texas) with training provider Alamo College System's St. Philip's College; and
– Marine Corps Base Hawaii with training provider Honolulu Community College.
Since the program's launch, approximately 250 graduates have already completed the Solar Ready Vets training program from 14 cohorts at five other military bases across the U.S.: Marine Corps Base Camp Pendleton (California), Fort Carson (Army, Colorado), Naval Station Norfolk (Virginia), Hill Air Force Base (Utah) and Fort Drum (Army, New York).
10 STEPs Forward
The DOE says the STEP program the 10 new STEP-funded training projects will help meet President Barack Obama's goal of training 75,000 solar workers by 2020. These projects will also focus on providing professionals in related fields like real estate, architecture, and fire and safety with the information they need to help accelerate solar deployment.
Broadly, the STEP program is meant to build an efficient, well-trained workforce that is familiar with solar energy in order to help make it easier for Americans to install solar by improving inspection compliance, expediting system permitting, and reducing liability and insurance costs.
The 10 new awardees are as follows:
– Clean Energy States Alliance (Montpelier, Vt.) will receive $568,000 to provide resources and training for state and local government officials on how to ensure inclusive participation in the solar economy, especially for those with low and moderate incomes and those without solar-friendly roofs, as well as how to help consumers find and use reputable, competent vendors and contractors.
– Elevate Energy (Chicago) will receive $445,027 to educate residential real estate agents, appraisers, and related regulatory officials about solar energy systems through Web-based, continuing-education classes.
– Electric Power Research Institute Inc. (Knoxville, Tenn.) will receive $1 million to support the education of the next generation of power systems engineers. In partnership with university, utility and electric industry partners, this project will establish GridEd-West, a distributed energy technology training consortium for the western U.S.
– George Washington University (Washington, D.C.) will receive $430,727 to develop multimedia solar energy training materials that can be used to train diverse audiences, including real estate agents, financiers, and state regulators and policymakers.
– Interstate Renewable Energy Council Inc. (Albany, N.Y.) will receive $2.2 million to train 100,000 code officials, inspectors, and firefighters in solar by facilitating the integration of state-of-the-art solar training into existing professional development platforms.
– National Conference of State Legislatures (Denver) will receive $950,615 to develop a solar training program for state regulators, legislators, and energy officers using traditional instruction, interactive games and simulations, and peer exchange.
– North American Board of Certified Energy Practitioners Inc. (Clifton Park, N.Y.) will receive over $1.1 million to develop new industry-validated personnel certifications for individuals working in photovoltaic operations and maintenance and mid-scale PV system design and installation.
– The Solar Foundation (Washington, D.C.) will receive almost $1.95 million to become the national administrator for the Solar Ready Vets program. The Solar Foundation will work with training institutions at 10 military bases to train more than 2,500 transitioning military service members and veterans for jobs in the solar energy industry.
– Trust for Conservation Innovation (Schenectady, N.Y.) will receive $799,949 to support the development and dissemination of solar reference materials and training for building design professionals.
– University of Central Florida (Orlando, Fla.) will receive $1 million to continue the Foundations for Engineering Education for Distributed Energy Resources (FEEDER) consortium under the Grid Engineering for Accelerated Renewable Energy Deployment (GEARED) program, which is aimed at training the next generation of power systems engineers to meet the needs of the U.S.' rapidly changing energy portfolio.