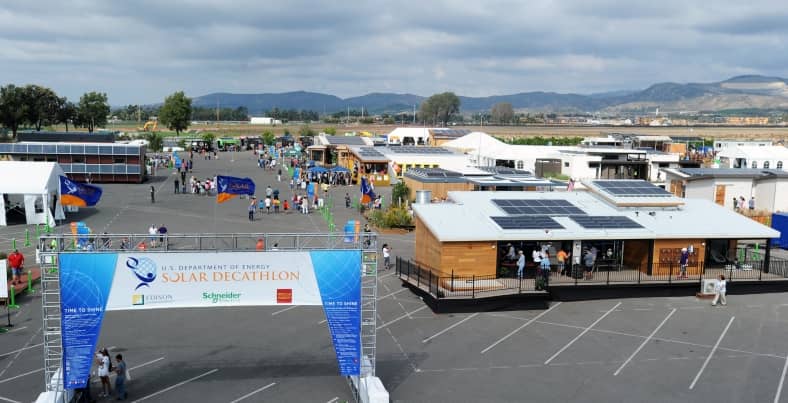 The U.S. Department of Energy's (DOE) Solar Decathlon 2017 student design competition, which challenges collegiate teams to design, build and operate solar-powered houses that are cost-effective, energy-efficient and attractive, will take place Oct. 5-15, 2017, in Denver.
The DOE says 14 collegiate teams competing in 2017 will focus on creating high-performance houses that reflect current market conditions, innovative building and the best in sustainable living. Student teams will provide free public tours of their energy-efficient houses Oct. 5-9 and Oct. 12-15.
"The U.S. Department of Energy Solar Decathlon challenges and inspires students to become our next green energy industry leaders," sys Under Secretary of Energy for Science and Energy Dr. Franklin Orr. "The students in the Solar Decathlon competition gain invaluable hands-on experience on appealing designs, sustainable materials and cutting-edge technologies. Denver's passion to create eco-friendly developments serves as a model for communities throughout the country and the world."
"Denver is proud to work with the U.S. Department of Energy to host this fun and engaging academic competition in our city," adds Denver Mayor Michael B. Hancock. "This opportunity not only further elevates the Denver metro area's leadership in energy efficiency, but also allows us to spotlight our burgeoning solar energy industry."
According to the DOE, the 2017 competition has been enhanced with challenging new contests to motivate students and boost the public's interest in accessible, sustainable living. The upcoming event is designed to present solutions for today's clean energy marketplace, with emphasis on innovation in all areas of sustainable living; water use and re-use strategies; smart energy use and market potential.
For the first time, teams are eligible for cash prizes. Each team that successfully builds a solar house at the site and finishes the competition will receive $100,000. The third-place finisher will receive $150,000, the second-place finisher $225,000, and the first-place finisher $300,000.
More information is available here.
Photo: Crowds gathered at the Solar Decathlon 2015 village. Photo by Thomas Kelsey, U.S. Department of Energy Solar Decathlon