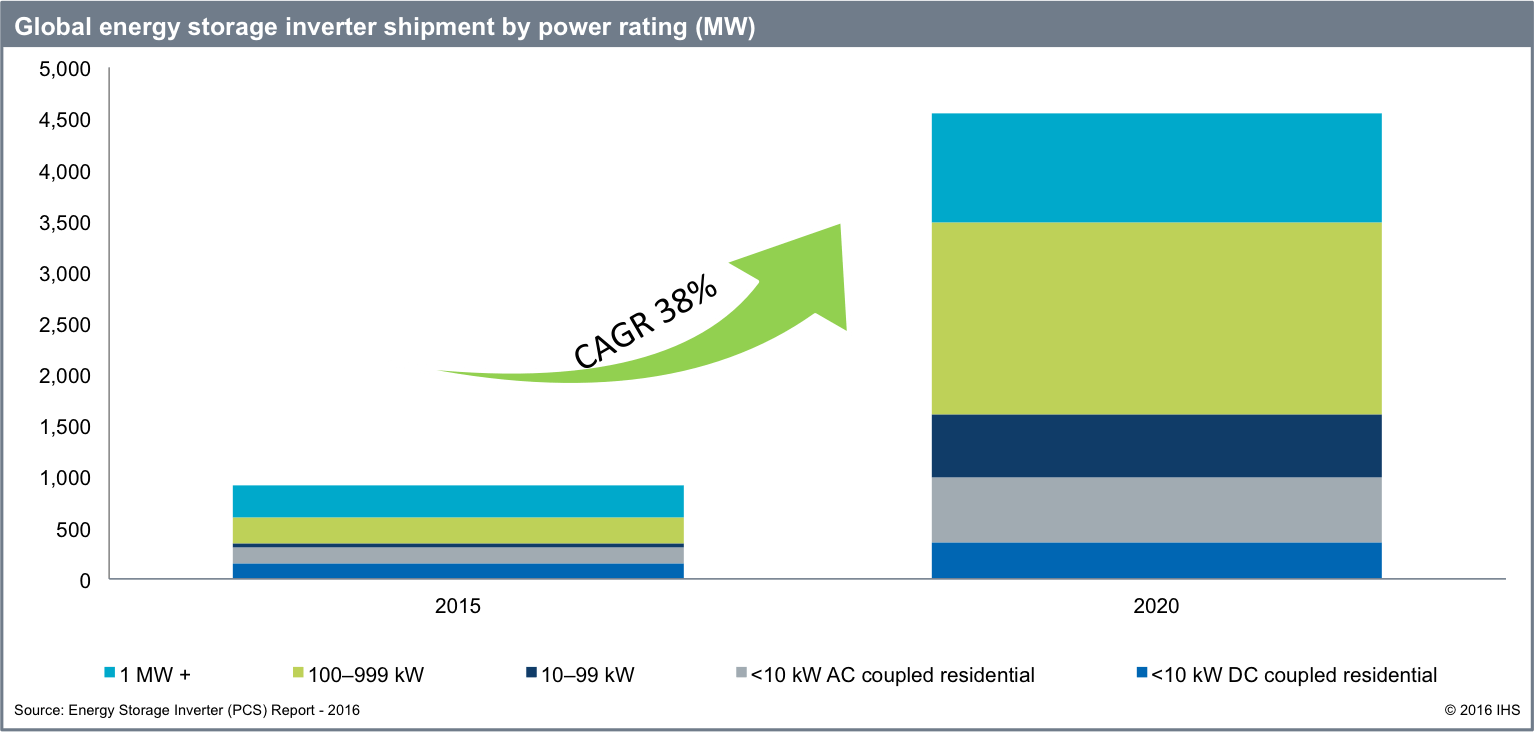 As the energy storage market rose and as prices for storage continued to fall, more than 900 MW of energy storage grid-tied inverters were shipped globally in 2015, according to IHS Markit. The research firm forecasts global energy storage inverter shipments will surge at a compound annual growth rate of 38% to 4.5 GW in 2020. Furthermore, prices for energy storage inverters will continue to fall an average of 13% per year from 2016 to 2020.
"The energy storage market hinges on cost-efficient and flexible inverters," said Isabella Ni, senior analyst at IHS Markit. "Recent inverter launches have the ability to distribute power flows between the network, the batteries, the load centers and generation assets."
According to IHS Markit, products with a power rating less than 1 MW will capture 70% of cumulative grid-tied energy storage inverter shipments between 2016 and 2020. In particular, nearly 40% of inverter shipments during the forecast period will have a power rating between 100 kW and 999 kW, as these products are utilized extensively in the utility-scale market, as well as playing a growing role in the commercial segment where average system sizes are quickly increasing.
According to IHS, Parker Hannifin and BYD led the market, supported by shipments to utility-scale projects. SMA topped the providers of the sub-100 kW energy storage inverters segment.
"The sub-100 kW inverters segment is highly competitive; about half of the shipments came from companies with a global market share of less than 5 percent," Ni said. "The large-scale energy storage inverter market, by comparison, is much more concentrated, with three manufacturers – BYD, Parker Hannifin and Woojin Industrials – representing half of the market."
More information on the report is available here.