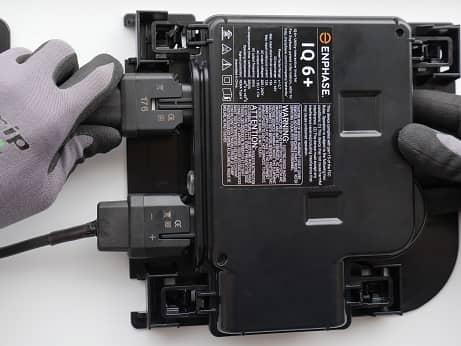 Enphase Energy Inc. has unveiled its Enphase home energy solution with IQ, which combines solar, storage and energy management.
The solution features the company's sixth-generation Enphase IQ micro-inverter system, integrates with upcoming AC modules from LG and SolarWorld, and offers installers faster and simpler installations, according to Enphase.
The Enphase IQ 6+ Micro supports 60- and 72-cell modules up to 400 W DC, and the Enphase IQ 6 Micro pairs with modules up to 330 W DC. The company says they are 30% lighter than Enphase S-Series micro-inverters and 40% lighter than similar micro-inverters on the market – partly due to their double-insulated, non-corroding polymeric enclosure.
The company says its two-wire Enphase Q cable is 50% lighter than the previous generation of the Enphase trunk cable. The Enphase Q aggregator offers a plug-and-play connection for up to three branches on the roof, and the Enphase Q combiner provides further installation and commissioning efficiency.
In addition, says Enphase, its IQ 6 micro-inverters comply with fixed power factor, voltage and frequency ride-through requirements and meet current and known future requirements for distributed solar on utility networks, including Rule 21 in California and Hawaiian Electric Co. Rule 14H.
The IQ family, like all previous Enphase micro-inverters, is fully compliant with NEC 2014 and 2017 rapid shutdown requirements. Unlike string inverters, this capability is built-in and requires no additional equipment, the company says.
The Enphase IQ 6 micro-inverter system is expected to be available in North America in the first quarter of 2017.