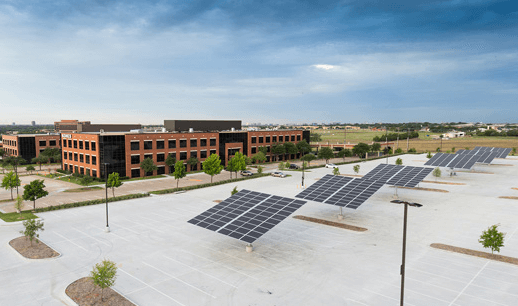 San Diego-based Envision Solar International Inc. says that it has completed the first Florida installation of its Solar Tree product at 1810 W. Kennedy Blvd. in Tampa.
According to Envision Solar, the patented Solar Tree product was installed by Tampa Bay Solar using Envision's installation manual and process.
"This was a flawless solar installation," says Steve Rutherford, president of Tampa Bay Solar. "It's great to get a fully engineered product that we are able to install quickly and easily, rather than going through a typical construction process. These tracking Solar Trees are eye-grabbers, and we are looking forward to installing many more of them."
"The original building that is now 1810 Kennedy was the first Gold LEED building in Tampa Bay," says Natalia Levey, owner and developer of the project. "We have always cared about the environment and our guests. To see a positive impact on the utility bill is a big bonus.
"The Solar Tree product was exactly what we were looking for," she continues. "1810 Kennedy is a work of art, and the Solar Tree extends the art to our parking lot. The tracking delivers a lot more electricity while adding an unexpected visual enhancement to our parking lot."
Desmond Wheatley, CEO of Envision Solar, agrees, adding, "Hurricane zones are challenging for many parking lot solar solutions, but the Solar Tree product is fabricated to be easily installed in any wind zone."
Invented and manufactured in California, the patented Solar Tree product shades eight parking spaces and does not reduce available parking in any way. It generates enough clean, solar electricity to power up to 700 miles of electric vehicle driving in a day or to offset the equivalent of six single-family residences' utility bills.
Envision Solar says the system's solar electrical generation is enhanced by the patented EnvisionTrak system, which causes the array to follow the sun, generating 18% to 25% more electricity than a fixed array. The energy can be stored in optional onboard ARC energy storage for peak shaving, demand charge reduction or emergency power provision.
Because the Solar Tree product is delivered as a fully engineered kit of parts, it is the fastest installed and least impactful solar shaded parking product available, according to the company.