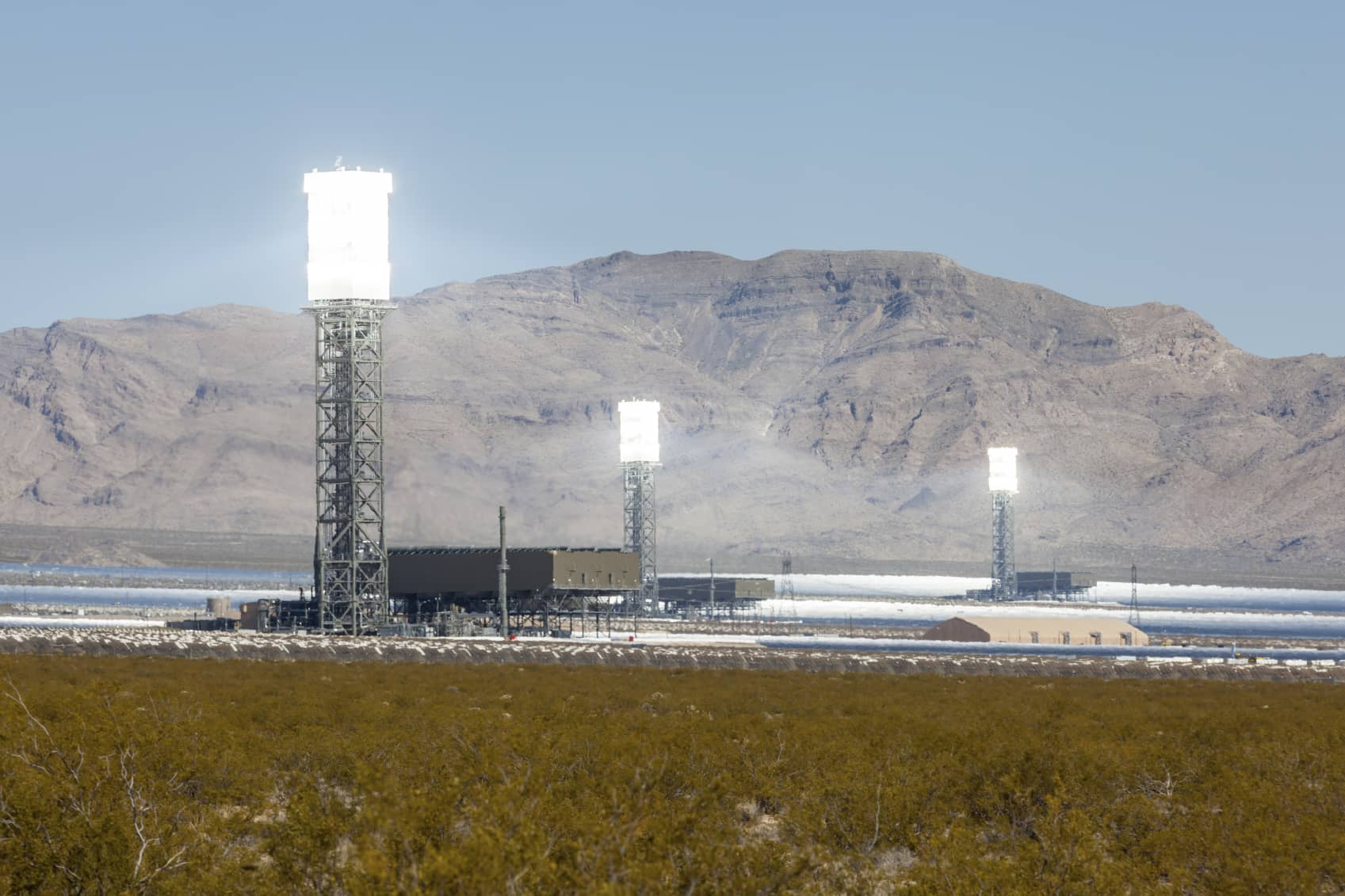 One of three towers at the Ivanpah Solar Electric Generating System has been shut down following a small fire on Thursday morning.
Dedicated in 2014 and backed by federal grants, the massive concentrating solar power (CSP) facility is located in California's Mojave Desert, and it features thousands of mirrors that focus sunbeams onto three separate power towers. On Thursday, firefighters from San Bernardino County, Calif., and Clark County, Nev., responded to a report of a fire at the project's Unit 3 tower.
NRG Energy, the project's majority owner and manager, says the fire occurred at the top half of the 450-foot tower, and the plant operators had extinguished the flames before the firefighters fully arrived.
"We appreciate the first responders for getting out there and using their expertise to make sure there were no hot spots or any chance of re-ignition," David Knox, a spokesperson for NRG Energy, tells Solar Industry. He says there were no injuries and notes no other fires have occurred at the Ivanpah plant.
According to Knox, the Unit 3 tower will remain shut down while an investigation is conducted.
Although an Associated Press report cites a San Bernardino County fire department official suggesting that "misaligned mirrors" caused the fire, Knox says NRG Energy will not speculate or comment on a potential cause until its team completes a full probe.
Interestingly, the San Bernardino County fire department posted photos from the scene on its Facebook page, and one shows marred pipes.
"Right now, we're doing our assessment of the damage, investigating the cause and developing a repair plan," says Knox. Regarding the photo of the pipes, he says the plant's team has found that "the damage is to the aluminum outer coating; it didn't damage the pipes or even the insulation."
Further complicating matters, the project's Unit 2 tower is also currently offline for maintenance unrelated to the fire – meaning the 392 MW Ivanpah plant is running at about one-third of its capacity.
Notably, the downturn comes after the project's recently publicized issues with meeting its production requirements under power purchase agreements with utility Pacific Gas and Electric (PG&E): The plant was in danger of defaulting on the contracts, and according to a recent Bloomberg report, California regulators granted PG&E's request in March to give the project more time to reach the requirements, noting in a filing that Ivanpah's production has "substantially increased."
Knox says NRG is currently unsure how long it will take to get Unit 3 back online.
This story's cover photo is a stock image of the Ivanpah plant. The inside photo is courtesy of the San Bernardino County fire department's Facebook page.