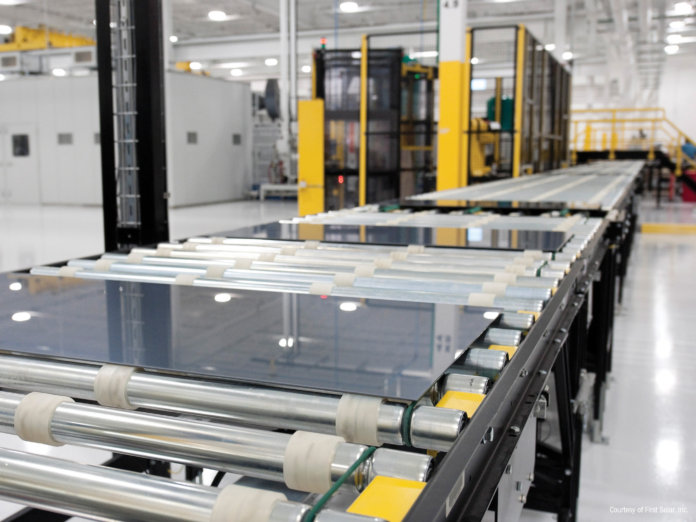 After remaining relatively silent on the issue, Arizona-based module maker First Solar has come out in support of the Section 201 trade case launched by Suniva and SolarWorld Americas. First Solar's position goes directly against that of the Solar Energy Industries Association (SEIA), even though the manufacturer is a SEIA board member.
First Solar CEO Mark Widmar filed a letter with the U.S. International Trade Commission (ITC) earlier this week as the commission considers what trade remedy it might propose to President Donald Trump in November. The ITC recently ruled that imported crystalline silicon photovoltaic (CSPV) cells and modules have caused, or threatened to cause, "serious injury" to the domestic CSPV manufacturing industry. Although the decision was a victory for Section 201 co-petitioners Suniva and SolarWorld, SEIA and many other industry stakeholders voiced their concerns and opposition at a remedy hearing earlier this month.
In his letter, Widmar called on the ITC to "reject the notion that the U.S. CSPV industry must be left to die so that the downstream solar industry may live. I firmly believe that the commission can design an effective remedy that allows solar demand to continue to flourish."
Notably, First Solar manufactures cadmium telluride (CdTe) thin-film, not CSPV, modules – meaning its products would not be subject to the trade remedy. As some previous studies have suggested, the company would actually be poised to benefit from new trade actions on CSPV products.
In his letter, though, Widmar pointed out that First Solar faced troubles of its own last year amid global market challenges and launched a restructuring initiative, which included a mass layoff. He wrote, "While 2016 was difficult, it would have been much worse for First Solar if we had been reliant on CSPV technology rather than on CdTe thin film."
Widmar also echoed the co-petitioners' arguments about the impacts of foreign imports on domestic CSPV manufacturers.
"For years, CSPV import prices have been anything but rational, falling much more rapidly than could be explained by cost improvements achieved on a commercial basis. The root cause of this phenomenon has been massive CSPV overcapacity, particularly in Asia, that is inconsistent with market-based investment behavior. U.S. CSPV producers will not get the breathing space they need unless CSPV import prices rise to rational levels and this overcapacity is addressed."
Interestingly, Widmar declared First Solar's disappointment in SEIA and how the organization has handled the trade case.
"[T]he injury to U.S. CSPV producers cannot be remedied without addressing the CSPV imports that caused the harm. This should be obvious. However, we have been disappointed that some parties, including the Solar Energy Industries Association, of which we are a member, have not engaged constructively on this issue," he wrote. "They first denied that CSPV imports had anything to do with the losses endured by the U.S. CSPV industry and now, after the commission's injury ruling, propose that imports – the cause of the injury – be exempted from any remedy."
He further argued, "It is simply not true that any meaningful remedy on imports will necessarily cause outsized reductions in demand. Large-scale solar demand, for example, is driven today by the low levelized cost of energy (LCOE) from new solar plants. The impact of module cost on the LCOE of a solar plant has continued to decline in recent years, and today under 20 percent of the LCOE of a solar plant is attributable to the cost of the module. History further suggests that respondents' fears of catastrophic demand destruction are exaggerated."
In a statement, Abigail Ross Hopper, president and CEO of SEIA, addressed First Solar's allegations.
"While we value First Solar's membership in SEIA, we respectfully disagree with its characterization of SEIA's engagement, as well as its assessment of the impact trade relief would have on the domestic industry," said Hopper. "The claim that we have not engaged constructively in the trade case is demonstrably false. While we disagreed with the ITC ruling in favor of the petitioners' regarding injury, we nevertheless proposed a creative and constructive way to support the CSPV manufacturing industry in the United States that would benefit the petitioners."
She added, "SEIA remains convinced that punishing tariffs are not the answer. We hope to work with all parties, including First Solar, to identify solutions that don't cause tens of thousands of lost American jobs and halt the growth of the broader solar industry."
Photo courtesy of First Solar's website