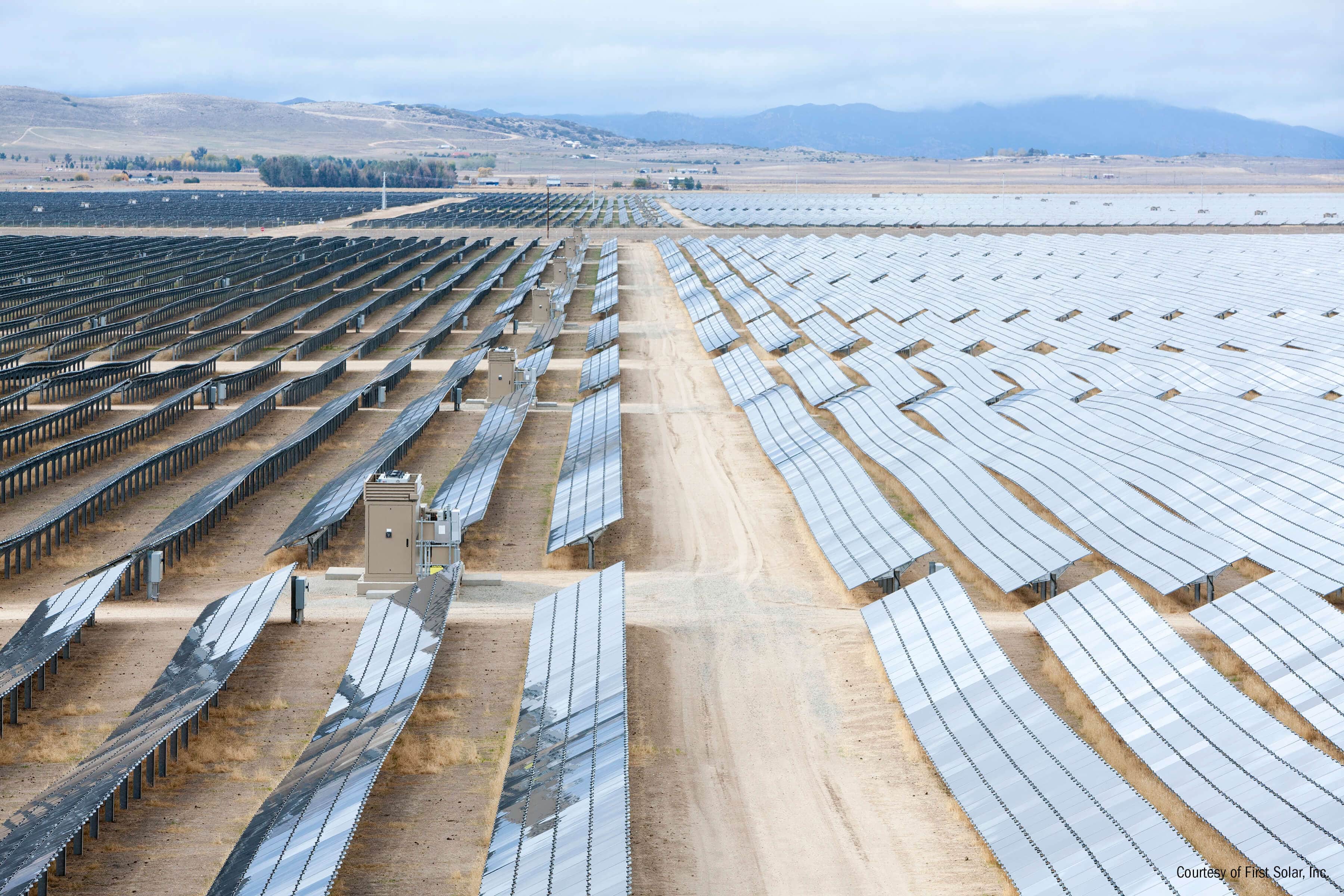 First Solar Inc., a U.S.-based vertically integrated solar company, has announced it is exploring options to sell its interests in 8point3 Energy Partners, a yieldco joint venture with SunPower Corp.
The announcement comes after First Solar revealed a restructuring initiative in November, including plans to scrap its Series 5 modules, skip to producing its Series 6 platform, and cut more than 25% of its workforce, in an effort to remain competitive among global market challenges.
Raj Prabhu, CEO and co-founder of clean energy communications and research firm Mercom Capital Group, explains the solar company's recent shuffle: "First Solar is making a strategic decision after their shares fell about 50 percent last year and have dropped around another 15 percent so far this year," says Prabhu. "The company is moving back to being primarily a component supplier and is betting it all on the next-generation Series 6 panels. This is a bold move considering the module price crash over the last year, but it remains to be seen how things will play out, as this shift is still in the preliminary stages."
As a continuation of its restructuring, First Solar says in a press release, the company is exploring options for the sale of its interests in 8point3 in order to refocus resources on Series 6 objectives and allow for faster recycling of its systems business capital. The company says this capital would support the planned transition to Series 6 production and provide additional funding for the expected deployment of multiple gigawatts of Series 6 capacity over the next several years. First Solar intends to accelerate the return of capital from its systems business by selling projects earlier in the construction phase. This includes the California Flats and Cuyama projects, which have been formally offered to 8point3. If 8point3 is unable to acquire these projects, First Solar says it expects to sell these projects to third parties.
"We remain committed to developing, constructing and selling utility-scale solar power plants," states Mark Widmar, CEO of First Solar, in the release. "Series 6 has the potential to be a transformational product and provide attractive returns to our shareholders. As we accelerate the cash conversion cycle from our systems business, we will further enable this important transition in our business. We want to thank SunPower for their partnership in forming 8point3, which has a portfolio of high-quality solar assets and proven operating performance. We look forward to working cooperatively with them through this process."
According to First Solar, the consideration of a potential sale of its interests in 8point3 is at a preliminary stage and may not result in any transaction being proposed or, even if proposed, consummated.
In light of First Solar's announcement, SunPower, which is another U.S.-based vertically integrated company, says it is evaluating strategic options for 8point3. In a company release, SunPower says it and First Solar will coordinate a review, which will include, but is not limited to, a potential replacement partner for First Solar. Although SunPower believes the partnership still offers significant, long-term strategic value through the acquisition of additional renewable power plants, distributed generation projects and associated cashflows, the company says it will undertake a review of its strategic alternatives given First Solar's decision.
"We want to thank First Solar for their strong partnership in creating the industry's first solar-only yieldco. After approximately two years of successful operational performance, we have proven that a diversified portfolio of high-quality renewable assets is an ideal vehicle to drive stable cashflow growth for investors," says Tom Werner, SunPower president and CEO, is the release. "We will work with our financial advisors to evaluate all alternatives for our investment in 8point3, including a potential replacement partner for First Solar, as we believe 8point3 can continue to benefit from owning long-term, high-quality renewable assets."
Given that bankrupt firm SunEdison's TerraForm yieldcos recently found a buyer in Canada-based Brookfield Asset Management, Mercom's Prabhu thinks SunPower would likely be able to replace First Solar with a new co-sponsor.
"There is a good chance they will find a solid partner," he says. "A strong financial company with deep pockets would be ideal, but large energy conglomerates could also be interested."
Like First Solar, SunPower emphasizes in its release that the strategic review process is in the early stages, is ongoing, and no decision on any particular alternative has been reached. Furthermore, both companies say they do not intend to disclose further developments with respect to this process except to the extent a specific course of action is approved, the process is concluded or it is required by law or otherwise deemed appropriate. Meanwhile, the companies add, the sponsor-appointed directors and officers of 8point3  remain committed to prudently managing the partnership throughout this evaluation process.
Under the yieldco model, First Solar and SunPower, as creators and sponsors of 8point3, have sold operating projects to their yieldco – a relationship that provides 8point3 with a steady project pipeline to own and operate and the sponsors with more capital for future projects.
In concert with its sponsors' announcements, 8point3 has released its financial results for the first quarter of fiscal 2017, during which the yieldco reported revenue of $9.9 million, net loss of $5.3 million, adjusted EBITDA of $13.1 million and cash available for distribution (CAFD) of $22.1 million.
"Our high-quality solar portfolio performed well as we exceeded our key financial metrics for the quarter while once again raising our quarterly distribution," says Chuck Boynton, 8point3 Energy Partners CEO, in the announcement. He notes that, as of the end of February, the yieldco's portfolio totaled interests in 945 MW.
"Despite the sponsors' review of alternatives with respect to their interests in the partnership, I want to assure our investors that we do not expect this process to have an impact on our financial results for the year. Given our cashflow profile, we are well positioned to achieve our guidance for the year, as well as reach our 12 percent distribution growth rate for 2017," Boynton adds.
Prabhu suggests First Solar's potential sale of its 8point3 interests is not necessarily indicative of an issue with the viability of the yieldco model, itself.
"8Point3energy was the only pure-play solar yieldco, and all of the other renewable yieldcos are different in their portfolio makeup and business model," he explains. "Most of them have recovered somewhat after the SunEdison collapse."
Prabhu concludes, "This decision by First Solar is more about where they as a company are going than a referendum on yieldcos in general."
Project photo courtesy of First Solar