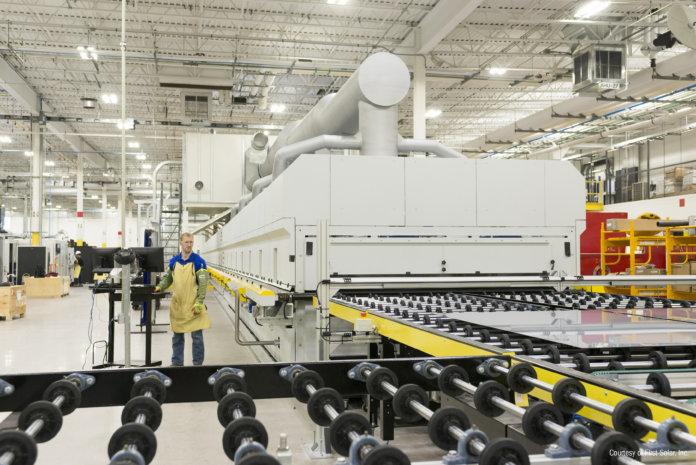 After initiating major restructuring efforts last year, which included a mass layoff and abandoned production plans for its Series 5 modules, Arizona-based First Solar Inc. has been pushing forward in an effort to remain viable and combat global market challenges. Today, the vertically integrated solar company has taken some big steps in its journey by unveiling the first functional Series 6 thin-film photovoltaic module off the company's new Perrysburg, Ohio, production line and announcing at least two large supply agreements.
Presented during a meeting with investment analysts at the Perrysburg facility, the large-area cadmium telluride (CdTe) glass-on-glass Series 6 module was part of the first batch of material run completely through the recently activated line. According to First Solar, this marks a major milestone in a factory retooling that began just under one year ago and included approximately $177 million in capital investment.
The new line is expected to be producing commercial product by within the second quarter of 2018 and will have an annualized output of 600 MW when operating at full capacity.
The company says its Series 6 is expected to enter the commercial market with a power rating of 420 W to 445 W and conversion efficiency of over 17%. Measuring approximately 2 meters by 1.2 meters, Series 6 modules will provide more watts per lift than comparable crystalline silicon solar panels and can be installed on virtually any ground-based PV mounting system, First Solar claims.
"This is an extraordinary accomplishment, by any measure," says First Solar CEO Mark Widmar. "Last November, we were in full Series 4 production mode. Since our decision at the end of 2016 to rapidly transition to Series 6, we've hit every incremental target with precision. We are absolutely delighted to be on track for delivery of commercial product early next year."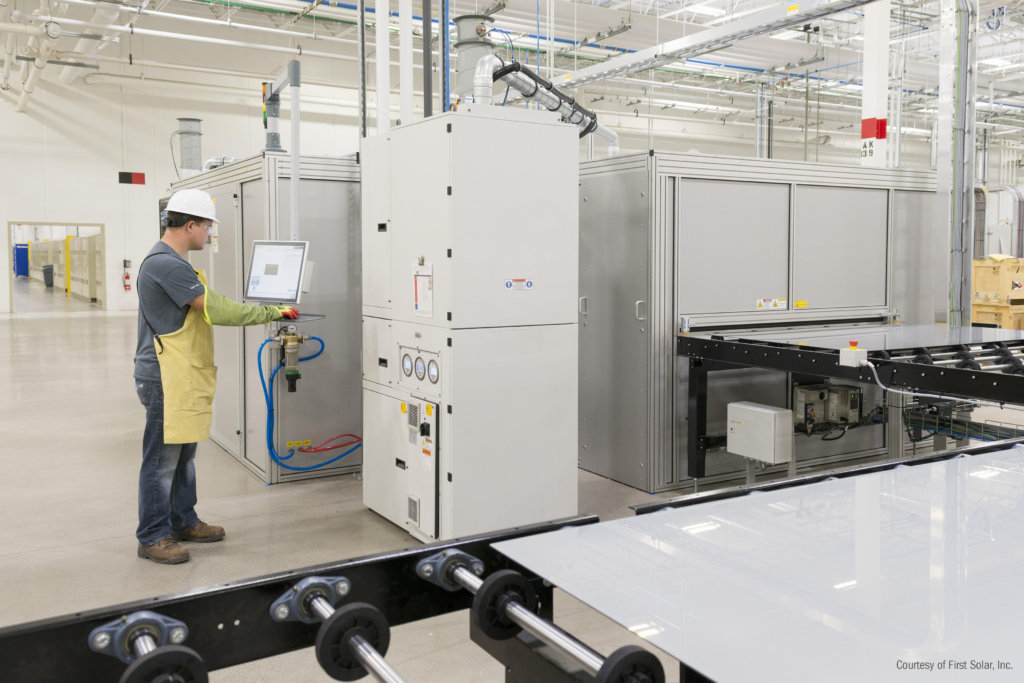 Also during the meeting with analysts, First Solar announced it is expanding its production facility in Vietnam, essentially doubling production capacity of the initial site, which is still under construction. The company says annualized production capacity in Vietnam, when fully operational, will be 2.4 GW. This, in combination with Perrysburg and facilities in Kulim, Malaysia, will give First Solar a total Series 6 manufacturing capacity of approximately 5.4 GW by 2020 and represents approximately $1.4 billion in capital investment.
Citing the highly competitive and dynamic PV market environment and customer demand for higher-efficiency modules, First Solar made a strategic decision in November 2016 to restructure its operations, scrap plans for Series 5 modules, and skip ahead to producing the Series 6. The new product, still based on First Solar's thin-film CdTe PV technology, increases physical dimensions and performance characteristics while adding an under-mount frame that allows for simple, high-velocity installation of the product in the field, according to the company.
First Solar says it will continue to maintain some Series 4 production at the Kulim plant as long as economic global demand calls for the product.
Customers
In addition to the Series 6 production milestone, First Solar has announced module supply agreements totaling almost 800 MW with developers D. E. Shaw Renewable Investments (DESRI) and Origis Energy USA.
Under a deal with a DESRI affiliate and with delivery dates in 2019, First Solar will provide 200 MW of its new Series 6 thin-film modules for DESRI's near-term pipeline of projects going into construction in the next two years in the U.S. Furthermore, First Solar signed operations and maintenance (O&M) contracts for two projects that DESRI is developing.
"DESRI is thrilled to continue growing its partnership with First Solar," says Bryan Martin, CEO of DESRI. "We take great comfort knowing that these projects will benefit from the company's cutting-edge module technology in the industry, as well as its exceptional O&M services during operations."
In addition to this module sale, DESRI has acquired three utility-scale solar projects from First Solar since 2016, all in California.
"This combination of our industry-leading module technology and world-class O&M services will provide DESRI with a reliable, resilient and high-performance renewable energy generation asset," comments Georges Antoun, chief commercial officer of First Solar. "We are proud to build on our strong relationship with this trusted partner."
Separately, First Solar and Origis Energy USA have completed a module sale deal totaling 595 MW and spanning a three-year delivery date schedule. The agreement includes delivery of First Solar's Series 4 modules in 2017 and 2018, as well as Series 6 modules in 2019 and 2020, for projects in the U.S.
"The bankability of solar and energy storage components is a key consideration for us to deliver high-performing clean energy assets to our clients," says Samir Verstyn, chief investment officer of Origis Energy. "This alliance with First Solar fulfills the site and schedule commitments we have made to the market in the foreseeable future."
Antoun adds First Solar is pleased to "be selected by Origis Energy as a long-term partner."
As if the production and order announcements weren't enough in one day, First Solar has also released its full-year 2018 financial guidance, which foresees net sales of $2.3 billion to $2.5 billion.
Photos courtesy of First Solar