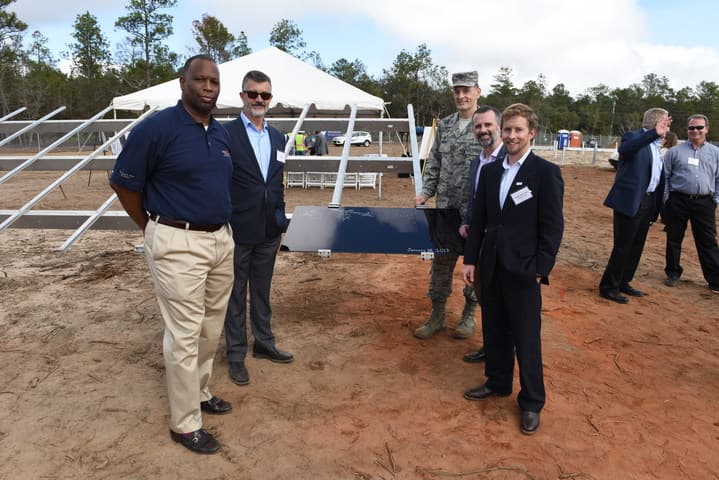 Work is well under way on a 120 MW solar project portfolio sited on U.S. Department of Defense property in northwest Florida.
During a ceremony earlier this week, executives from Florida-based utility Gulf Power and Coronal Energy, powered by Panasonic, joined officials from Eglin Air Force Base and Naval Air Station (NAS) Pensacola to mark the installation of the first two PV panels on two large-scale solar projects.
The projects at Eglin Air Force Base and NAS Pensacola's Navy Outlying Landing Field (NOLF) Saufley, along with a third project at NAS Whiting Field's NOLF Holley, comprise the Gulf Coast Solar Center Portfolio. When complete, the combined facilities will be among Florida's largest solar projects, with approximately 1.5 million solar panels capable of generating up to 120 MW of electricity – enough energy to power approximately 18,000 homes annually.
Unanimously approved by the Florida Public Service Commission in April 2015, the projects will provide energy to Gulf Power customers across northwest Florida.
Stan Connally, Gulf Power chairman, president and CEO, said, "We're proud to work with Coronal Energy, powered by Panasonic, the Air Force and the Navy as we work toward meeting critical energy needs, as well as the energy needs of the region. Gulf Power is investing in smart renewables such as these solar projects that make economic sense for our customers as part of a balanced energy mix."
Coronal Energy started construction on all three solar projects in November, and they are slated to become operational this summer.
"The collaborative approach to the development of the Gulf Coast Solar Center Portfolio represents a smarter approach to pursuing solar energy and may serve as a model for future public/private-sector renewable energy initiatives," said Jonathan Jaffrey, chairman and CEO of Coronal Energy.
"We continually seek to balance the military mission with the stewardship of this environmental national treasure and look for innovative ways to excel in both arenas," stated Col. Craig Johnson, 96th Civil Engineer Group commander at Eglin AFB. "This project does that by leasing 240 acres of underused land to Gulf Power, and in turn, Eglin AFB will receive lease payments we will use to improve the energy resiliency of our installation. At the same time, the project will provide a substantial amount of clean energy back to Eglin and the surrounding community."
"It is gratifying to be part of a partnership that truly is beneficial to everyone," added NAS Whiting Field Commanding Officer Capt. Todd Bahlau. "This effort will develop cost-effective, renewable sources of energy, which will also enhance the Navy's energy security. Our team is excited to play a role in this collaborative project."