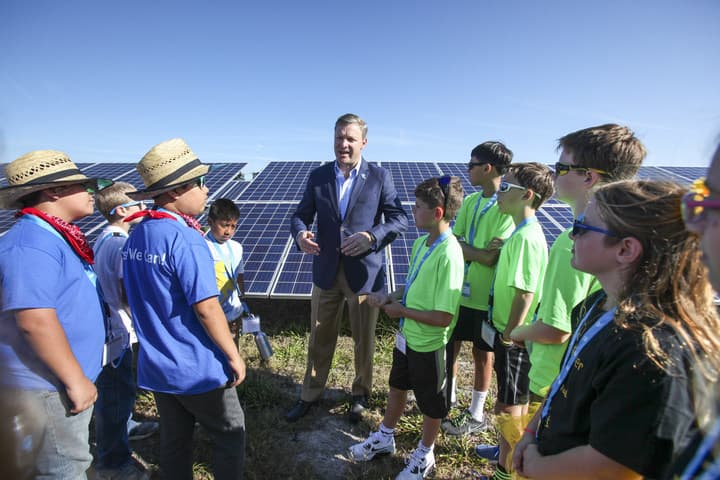 Florida Power & Light Co. (FPL) has announced it is effectively doubling the utility's near-term commitment to build new universal solar projects across the Sunshine State.
FPL recently revealed plans to install four new large-scale solar projects this year, but the company says it is now expanding that commitment to total eight new projects by early 2018. According to FPL, the eight solar plants will collectively feature more than 2.5 million new solar panels – enough to wrap around Florida's coastline more than two times.
The utility says it expects the projects to be cost-effective over their operational lifetime and produce millions of dollars in long-term net savings for FPL customers. According to FPL, each of the eight new solar plants will be 74.5 MW in capacity for a total of nearly 600 MW, which is enough to power approximately 120,000 homes. The plants will be built at locations across Florida, including the three previously announced sites in Alachua, Putnam and DeSoto counties. (The utility will announce the locations of all of the new projects in the coming weeks.) Construction is expected to commence this spring, and during peak construction, an estimated 200 to 250 people will be working at each site.
The utility announced its accelerated solar plans at a community event held on Monday to celebrate the company's latest completed solar power plants: the FPL Manatee Solar Energy Center, FPL Citrus Solar Energy Center and FPL Babcock Ranch Solar Energy Center – all of which began powering FPL customers by the end of 2016.
"We have been working hard to drive down the costs of adding solar so we can deliver even more zero-emissions energy to all of our customers," said Eric Silagy, FPL's president and CEO, during the event. "We have proven that it's possible to cut emissions and deliver reliable service while keeping electric bills low for our customers."
In addition, FPL says it used the event to build on the utility's commitment to STEM (science, technology, engineering and math) education, as the event also included a solar-powered competition co-sponsored by the Florida Solar Energy Center. Nearly 50 teams of students in grades 4 through 12 from schools across the state participated in the competition, building solar ovens, solar racecars and other innovative projects.
FPL says it currently operates more than 335 MW of solar generating capacity, enough to power 60,000 homes. In addition, the utility notes it has installed small-scale solar arrays for more than 100 Florida schools and other educational facilities.
Despite FPL's apparent support of utility-scale solar, however, FPL and other Florida utilities came under fire last year for reportedly backing a controversial ballot measure aimed at small-scale solar in the state. Florida voters ultimately rejected the measure, known as Amendment 1, in the November general election.
Photo courtesy of FPL