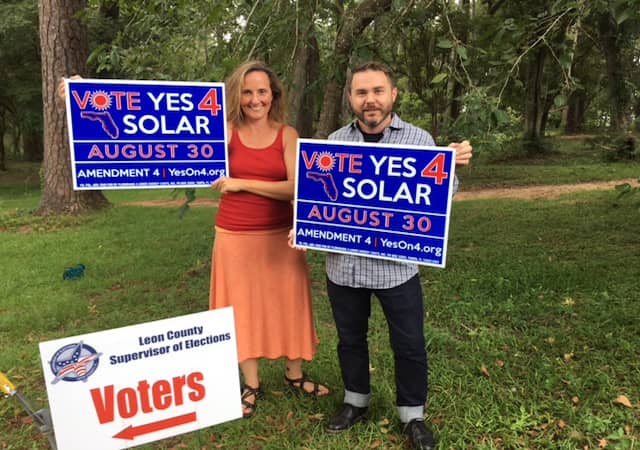 Following a long local – and national – campaign, Florida voters overwhelmingly approved a pro-solar ballot measure during the state's primary election on Tuesday.
Passed with 73% of the vote, Amendment 4 implements a change to the state constitution and clears the way for the legislature to implement new tax laws that advocates say will end prohibitive tax liabilities and help boost Florida's fledgling distributed solar market.
According to Vote Solar, a big proponent of the measure, Amendment 4 was placed on the ballot after garnering unanimous support from state policymakers in March. Specifically, the amendment authorizes the state legislature to abate ad valorem taxation and exempt tangible personal property tax on solar or renewable energy source devices installed on commercial and industrial property. This reflects an extension of the existing ad valorem abatement for solar and renewable energy devices on residential property. Once implemented by the legislature, the tax incentives of the amendment will begin in 2018 and extend for 20 years.
"The strong showing of support for Amendment 4 sends a clear message to elected officials at all levels of government that Florida voters want more diversity in our energy market. This amendment will spur growth in solar and renewable energy and create thousands of clean energy jobs for hardworking Floridians," says State Sen. Jeff Brandes, R-St. Petersburg, sponsor of the solar development bill. "The success of this amendment would not have been possible without the hard work of the solar and renewable energy community, as well as our diverse coalition of support from bipartisan groups ranging across the political spectrum. I look forward to continuing the effort to promote common-sense, free-market energy reform measures like Amendment 4 in the Sunshine State."
Scott Thomasson, director of new markets at Vote Solar, thanks the state lawmakers for their leadership. "It's now up to legislators to act once again on behalf of their constituents, affirm Amendment 4 in law, and let the solar industry know that Florida is open for business," states Thomasson.
"The Sunshine State is finally living up to its name," says Sean Gallagher, vice president of state affairs at the Solar Energy Industries Association (SEIA). "This vote sends a strong signal that Florida is open for business and the well-paying jobs and economic benefits that solar provides. Amendment 4 removes financial barriers to smart local investment. It's clear, Floridians want better access to affordable, clean energy options, and this vote is a significant step in the right direction."
According to Vote Solar, Amendment 4 drew broad support from business groups, clean energy advocates and environmental organizations. The Florida Chamber of Commerce, the Florida Restaurant and Lodging Association, the Florida Retail Federation, the Florida State Hispanic Chamber of Commerce, the Florida Realtors, The Nature Conservancy, Florida Conservation Voters and Vote Solar and others were among the more than 200 major endorsements for Amendment 4.
This win signals broad support for solar among Floridians; however, the solar industry is now shifting its efforts to block another Florida ballot measure, which SEIA's Gallagher calls "anti-solar" and other industry stakeholders consider deceptive. Amendment 1, a utility-backed measure proposed by a group called Consumers for Smart Solar, will be on the November general election ballot.
The ballot summary says, "This amendment establishes a right under Florida's constitution for consumers to own or lease solar equipment installed on their property to generate electricity for their own use. State and local governments shall retain their abilities to protect consumer rights and public health, safety and welfare, and to ensure that consumers who do not choose to install solar are not required to subsidize the costs of backup power and electric grid access to those who do."
The Florida Supreme court narrowly approved the amendment's language in a 3-4 vote, and in her dissenting opinion, Justice Barbara Pariente deemed the ballot measure a "wolf in sheep's clothing."
"Let the pro-solar energy consumers beware. Masquerading as a pro-solar energy initiative, this proposed constitutional amendment, supported by some of Florida's major investor-owned electric utility companies, actually seeks to constitutionalize the status quo," wrote Pariente.
She also took issue with the amendment's undefined term "subsidize," charging it "suggests that consumers who use solar energy necessarily impose a financial burden on non-solar consumers and implies that this undesirable consequence of the right to own or lease solar equipment must be remedied through the proposed amendment."
Gallagher says, "Now it's time to keep the momentum going. To ensure a bright solar future for Florida, customers should vote NO on Amendment 1."
Photo courtesy of Florida Conservation Voters