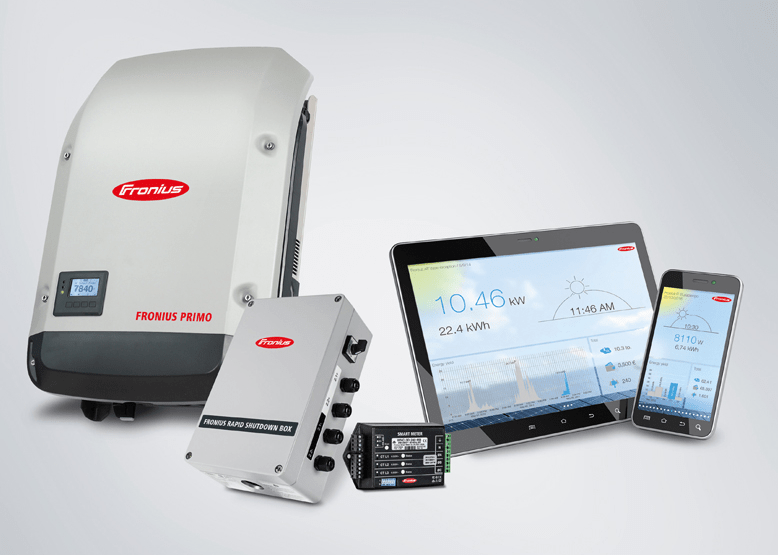 Fronius, a manufacturer of battery charging systems, welding technology and solar inverters, has introduced its Fronius Smart Solution for residential and commercial solar systems.
According to the company, its new solution offers flexible system design, shade mitigation, NEC compliance, high performance and enhanced monitoring, while minimizing the number of components and keeping installation simple.
Specifically, the Fronius Smart Solution consists of cell-string optimized modules, Fronius Rapid Shutdown Box, Fronius SnapINverter, Fronius Smart Meter (optional), and Fronius Solar.web monitoring portal.
"The Fronius Smart solution eliminates the need for traditional Module Level Power Electronics, such as microinverters or DC optimizers, and offers installers a simpler, more cost-effective solution with the same benefits," explains Wolfgang Niedrist, president and CEO of Fronius USA.
"If you look at a typical residential system of 6.5 kW with traditional DC optimizers, you end up with 24 components on the roof, plus the inverter and a communication gateway," he continues. "All you need with Fronius is an inverter plus a Fronius Rapid Shutdown Box – that is two components compared to 26."
Fronius says it offers the Fronius Smart Meter, a bidirectional energy meter, as an option for those facing feed-in limitations for a solar system or those who want to monitor their energy consumption.
The online monitoring platform Solar.web, which the company calls the center of the Fronius Smart Solution, ensures uptime and performance, runs remote software updates, analyzes energy consumption, and compares it with the solar production to optimize overall energy usage.
For more details, click here.