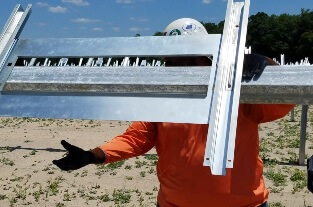 GameChange Solar, a manufacturer of fixed-tilt and tracker solar racking systems, has announced the AutoSpace&Square purlin jig for the company's Genius Tracker solution.
According to the company, the AutoSpace&Square purlin jig reduces purlin installation time by over 50% and can be used by only one worker. In addition, the jig automatically squares and spaces purlins for proper module spacing. GameChange claims this design innovation, combined with the company's pre-assembled Driving Arm and other features, helps place the Genius Tracker among the fastest-installing solar trackers on the market.
More information and a brief video is available here.