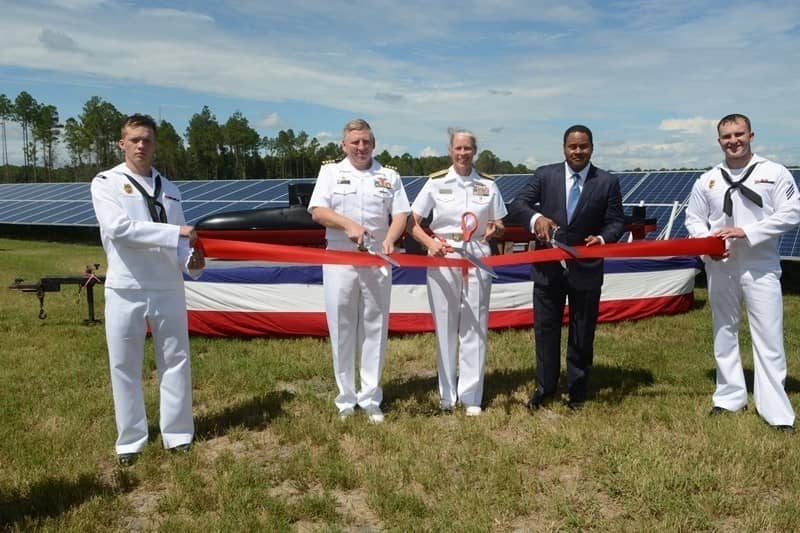 Georgia Power and the U.S. Department of the Navy (DON) have dedicated a 30 MW AC solar facility at Naval Submarine Base (SUBASE) Kings Bay, near St. Marys, Ga. According to Georgia Power, the solar project represents the first that the utility has completed in collaboration with the DON and joins a similar on-base solar facility recently completed with the U.S. Army at Fort Benning.
The utility is currently developing a large portfolio of solar generation to serve the state's electric customers through strategic projects with the DON and the Army. In addition to the facilities now online at SUBASE Kings Bay and Fort Benning, new Georgia Power solar facilities are under construction at Fort Gordon, Fort Stewart and the Marine Corps Logistics Base Albany.
Norrie McKenzie, vice president of renewable development for Georgia Power, commented, "As we look forward to bringing additional on-base solar facilities online, we appreciate the Navy's continued partnership and recognition of the importance of this new energy source for our customers, the bases and local communities."
The SUBASE Kings Bay solar facility was built and is owned and operated by Georgia Power. According to the utility, the solar project occupies 254 acres, utilizes approximately 133,000 ground-mounted PV panels and is estimated to represent a $75 million investment at the installation.