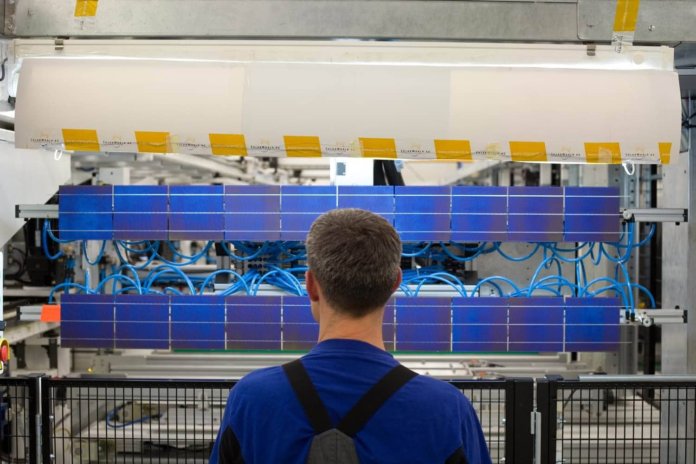 After reaching an acquisition agreement earlier this week, Germany-based module manufacturer SolarWorld AG has received approval to hand over its German production facilities and its distribution companies in Europe, Asia and Africa to SolarWorld Industries GmbH, a newly formed entity led by SolarWorld founder Dr.-Ing. Eh Frank Asbeck. Details – financial, structural or otherwise – were not disclosed, but a press release indicates the deal will directly save approximately 500 of at least 1,700 jobs.
Reiterating its long-held claim that module oversupply and cheap imports from Chinese-owned companies were hurting the domestic market, SolarWorld AG and its German subsidiaries filed for insolvency proceedings in May and had been working to find a solution to its financial troubles with an insolvency administrator ever since. SolarWorld Americas, the U.S. subsidiary that operates a PV plant in Oregon, was not part of the filing and has maintained operations at its facility, despite a recent decision to downsize.
In a press release whose headline roughly auto-translates to "SolarWorld Industries Is Starting Again" posted on a revamped website Friday, the new SolarWorld Industries says its plants will continue producing solar products made in Germany, and more than 500 employees at all three locations in Arnstadt, Freiberg and Bonn are entering the new company. The release claims there will be a transfer company for a further 1,200 employees.
In addition to Asbeck, the release verifies previous reports that Qatar Solar Technologies, a subsidiary of the not-for-profit Qatar Foundation, is a shareholder in SolarWorld Industries GmbH. The release also says the new SolarWorld Industries will exclusively focus on the production of products based on monocrystalline PERC solar cells, such as glass-glass modules with energy generation on both sides.
"I am delighted that after tough negotiations, we have succeeded in developing a future for the SolarWorld production," says Asbeck in the roughly translated release. "With the reboot, we will ensure that in Germany, solar products are still being developed and produced at the highest level."
"We plan to start with a production capacity of 700 MW, which can also be boosted to the previous capacity of more than 1,000 MW," he adds. "In the launch, the company will have 515 employees. Of these, more than 12 percent are employed in research and more than five percent are trainees."
Asbeck adds, "In the past few weeks, we have received a lot of encouragement from the industry of researchers, suppliers and European competitors to maintain the production sites and the SolarWorld brand. But above all, by our customers. Thus, we are already able to conclude a new contract for the new company of 25 MW."
The U.S. subsidiary
As mentioned, SolarWorld Americas was not part of its parent company's insolvency filing. Although the Oregon-based manufacturer recently laid off over half of its workforce, Ben Santarris, SolarWorld Americas' head of corporate communications, tells Solar Industry that the subsidiary has "reset" after its recent $6 million cash infusion and is still operating outside of bankruptcy proceedings.
"The company is working to return to a path of growth and prosperity," Santarris says. "We needed to right-size the company to adjust to changed market conditions. Having done so, we are re-ramping production and preparing for growth."
Regarding the U.S. company's current situation and whether it plans on selling off equipment or other assets, he explains, "We are focusing on core products to serve our loyal customers. If an asset does not contribute to that focus, we might consider selling it to reinvest in growth and innovation."
Meanwhile, SolarWorld Americas has been gearing up for a fight alongside co-petitioner Suniva in the Section 201 trade case, which seeks to impose global trade duties on all global crystalline silicon imports into the U.S.
The case has faced strong opposition from the Solar Energy Industries Association, market stakeholders, and federal legislators, but with the U.S. International Trade Commission (ITC) set to initiate its hearing next week, Santarris says, "We are confident the facts assembled by the ITC to date show that imports have injured the domestic industry. We also believe the staff and the commissioners of the ITC will review those facts and derive an appropriate finding and remedy."
Photo courtesy of (the former?) SolarWorld AG