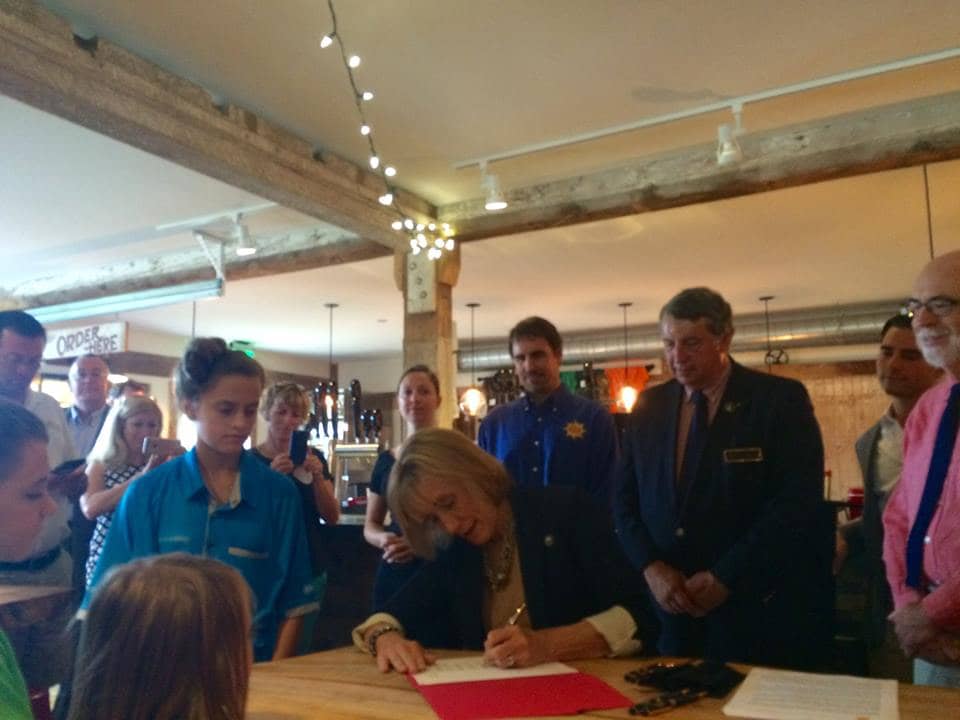 On Friday, Gov. Maggie Hassan visited Throwback Brewery in North Hampton, N.H., where she ceremonially signed a bill raising the cap on net energy metering (NEM). According to ReVision Energy's website, the installer recently completed a 48.7 kW project for the local brewery.
Although the governor officially signed the bill into law in May, she used the ceremonial signing event to highlight the state legislature's efforts and New Hampshire's growing renewable energy economy. The legislation lifted the state's cap on NEM, a key incentive for rooftop solar, and doubled it to 100 MW. It also ordered the Public Utilities Commission (PUC) to start exploring alternative rate structures for NEM.
According to a press release from the governor's office, Hassan was joined on Friday by representatives from solar installers ReVision Energy and Sunrun; the New Hampshire Sustainable Energy Association; and members from both parties who worked together to pass the bill.
"I am proud of our bipartisan work this year to raise the cap on net metering, which will help our clean energy industry continue to grow and thrive," said Hassan, in the release. "Solar and other small-scale clean energy resources are creating good-paying, high-quality jobs, spurring economic development and helping combat climate change, which we see firsthand here in the state's largest solar-powered brewery."
She continued, "I am confident that the PUC process will result in a fair net-metering tariff that will encourage energy diversification and clean energy job growth, and I look forward to continuing to work with members from both parties and the business community to support our growing clean energy economy."
Photo courtesy of Gov. Hassan's Facebook page