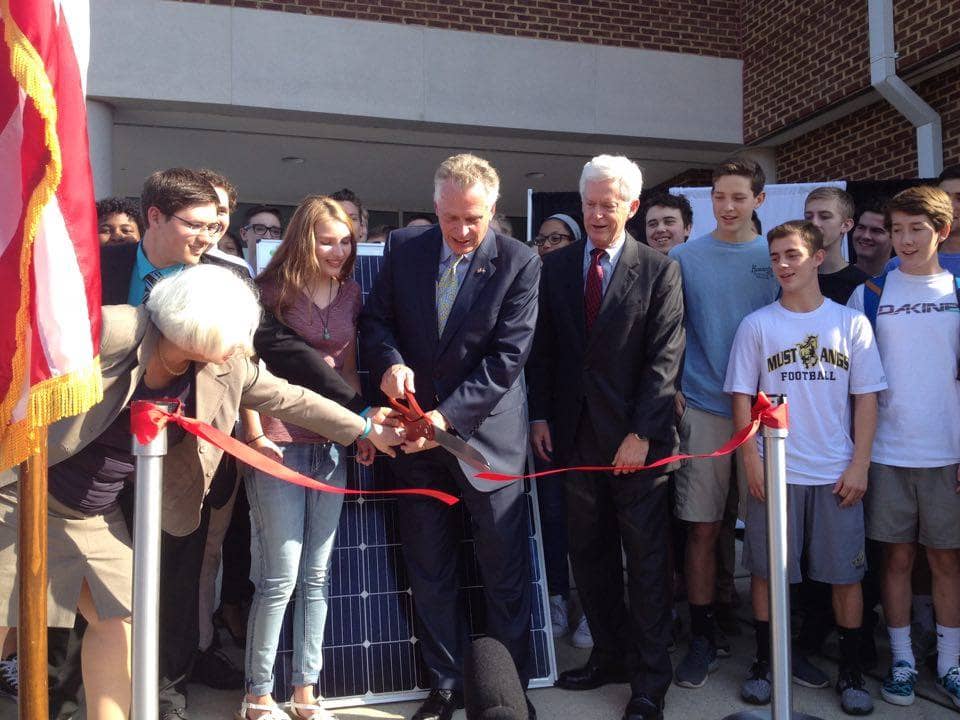 On Thursday, Gov. Terry McAuliffe, D-Va., unveiled an update to the 2014 Virginia Energy Plan at a ribbon-cutting ceremony for a new solar installation at Monticello High School in Albemarle County. The update, titled "Energy in the New Virginia Economy," highlights the progress the McAuliffe administration has made on his strategic energy priorities, and the event showcased the installation of solar systems at six Albemarle County public schools.
"Today's installation is the perfect venue to formally unveil an update on the progress we are making toward ensuring Virginia is a leader in the global energy economy," said McAuliffe at the event. "The clean energy sector has been a central part of our efforts to build a new Virginia economy, and that effort has paid off, as revenue in the sector has grown four-fold to $2 billion."
According to the governor, the energy plan update is a statutory requirement and lays out the accomplishments achieved under his four strategic energy themes: strategic growth in the energy sector, best-in-class infrastructure, alternative fuels and advanced vehicles technology, and workforce development.
Achievements under the McAuliffe administration included the installation of an 80 MW solar farm in Accomack County, the largest solar facility in the Mid-Atlantic; the creation of VirginiaSAVES, Virginia's first state Green Community Program; receipt of a $120 million federal award to combat the effects of sea level rise in Hampton Roads; and the deployment of over 200 alternative fuel vehicles in the public sector.
The report says other 2014 Energy Plan recommendations that were achieved included establishing the Virginia Solar Energy Development Authority, facilitating partnerships to install 15 MW of solar on state and local government sites, facilitating the installation of 15 MW of solar on private facilities, and increasing the cap on non-residential solar generating systems from 500 kW to 1 MW.
Furthermore, based on the projects announced and permitted, the report estimates that Virginia will have 188 MW of solar installed by the end of 2016 and an additional 198 MW installed by the end of 2017. That will make close to 400 MW of solar generation installed in the state during the McAuliffe administration.
With the help of McAuliffe on Thursday, Staunton, Va.-based solar provider Secure Futures LLC and the Albemarle County Public Schools (ACPS) district dedicated the solar project at Monticello High School, one of six completed school installations in the district totaling 1.1 MW.
Secure Futures says the 20-year solar power purchase agreement (PPA) between the company and ACPS represents a milestone in Virginia, as these are the first solar installations on a public school system in the state under the 2013 Pilot PPA Program legislation. SolarWorld Americas provided the solar panels and the engineering, procurement and construction management.
With zero capital investment by ACPS and annual savings projections of $3,800, the 1.1 MW of solar is expected to provide 22% of the annual electricity requirements for the six schools it serves.
"This collaboration not only benefits the schools in energy savings and curriculum enhancement, but it also creates a positive precedent for other school systems to follow," said Dr. Tony Smith, CEO of Secure Futures. Because the installations were partially funded by a federal grant, Smith added, "We're very thankful to the U.S. Department of Agriculture for the $500,000 REAP grant that made financing for this project possible with City National Bank and Virginia Community Capital."
According to Secure Futures, the solar installations grew out of a three-year campaign initiated by ACPS students seeking to increase their school's economic resources while reducing its environmental footprint. One of the student activists, Elenor Glassco, said, "As more schools install solar panels, more students will learn about energy and the environment."
Photos courtesy of Secure Futures LLC