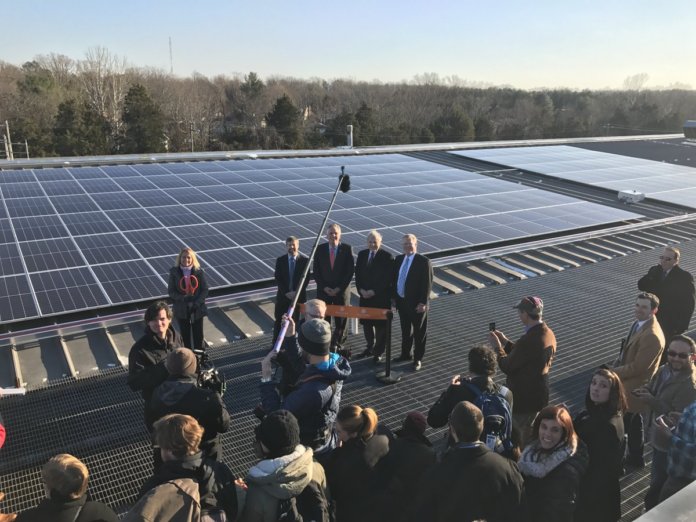 On Thursday, Gov. Terry McAuliffe, D-Va., announced that the VirginiaSAVES Green Communities Program has created more than 900 jobs during his administration, generating more than $70 million in energy savings across the state.
According to a press release from the governor's office, the VirginiaSAVES program was created in 2015 and is Virginia's first statewide Green Community Program. The program, sponsored by the Virginia Department of Mines, Minerals, and Energy (DMME), helps public- and private-sector building owners to reduce the costs of financing clean energy projects, such as energy efficiency upgrades and renewable energy systems.
Making the announcement at the dedication of a new 860 kW rooftop solar array at specialty apparel firm Green Applications, McAuliffe highlighted the positive impacts of the VirginiaSAVES program. For Green Applications, the solar array will offset almost 50% of the facility's electricity usage, and according to the release, the system was designed, engineered, and installed entirely by Virginians who work for Charlottesville-based Sun Tribe Solar.
"Clean energy is positioned to employ 38,000 Virginians and contribute nearly $300 million to state domestic product by 2030," said McAuliffe. "Renewable energy technologies – including solar, wind, and innovations in energy efficiency – are delivering clean and affordable energy to consumers across the commonwealth, including here in Orange County. Projects like these are creating jobs that will help grow local economies and create a better quality of life for all Virginia families. Today's announcement is a great opportunity for the commonwealth to tout our leadership to advance energy efficiency and renewable energy generation in the new Virginia economy, and I thank Green Applications for partnering with VirginiaSAVES on this project."
"The clean energy sector in Virginia is booming and is a tremendous asset for the new Virginia economy," said Secretary of Commerce and Trade Todd Haymore. "In just over two years, VirginiaSAVES has provided more than $57 million to 13 projects encompassing more than 150 buildings statewide, resulting in more than 900 new jobs. Through this program, we are lowering barriers to deploying clean energy technology that reduces electricity consumption, carbon emissions, and water use while creating jobs and saving taxpayer dollars. Increasingly, our corporate leaders are looking for sites with clean energy diversification, and Virginia is at the forefront of providing affordable, clean energy choices to our residential and commercial consumers."
According to the release, the VirginiaSAVES program helps building owners reduce their operating costs and improve cashflow so that they can make other investments in their communities, such as hiring more workers or improving educational resources. Across the VirginiaSAVES project portfolio, the installed upgrades will save over 22,000 MWh of electricity and over 370,000 gallons of water annually. Greenhouse-gas emissions will be reduced by an amount equivalent to taking almost 6,000 passenger vehicles off the road for a year.
"Green Applications is thrilled to be part of the VirginiaSAVES program promoting clean energy in Virginia," said Robert Butters, CEO of Green Applications. "When Green Applications moved into the commonwealth three years ago, we made a commitment to the community for investment in jobs and capital projects. This solar power project is a great example of how investment in renewable energy can have a positive impact on the environment, but also a long-term financial impact by reducing our utility cost."
"It was exciting to partner with VirginiaSAVES on the Green Applications solar project," said Taylor Brown, co-founder of Sun Tribe Solar. "Programs like this move renewable energy and energy efficiency projects forward throughout the state and show the firm commitment that Governor McAuliffe has had to making the Commonwealth a leader in clean energy while creating stable local jobs. We look forward to seeing this trajectory continue and helping more forward-thinking Virginia companies like Green Applications realize their clean energy future."
More information on the VirginiaSAVES program can be found here.
Photo courtesy of Sun Tribe Solar's Twitter account